Versilon™ F-5500-A - Soft Tubing withstands the harshest Chemicals even under high Temperature
Pumpable Dry Cleaning Fluid Line & Solvent Recovery Tubing
Made of a proprietary fluoroelastomer, Versilon™ F-5500-A tubing has both the physical and chemical characteristics that make it ideal for severe environments, such as dry cleaning fluid lines and solvent recovery systems, where other flexible tubes fail. Versilon™ F-5500-A tubing can be used in continuous service with temperatures as high as 204°C (400°F). Versilon™ F-5500-A tubing's opaque black color helps protect light-sensitive materials being transferred and will not prematurely crack and age when exposed to ozone, sun and weather. A food grade tubing formulation is available upon request.
Reduced Outgassing
Through a high temperature, time controlled, post-cure process, virtually all processing residuals are driven from Versilon™ F-5500-A. This allows for use in applications where minimal outgassing is required. This condition can be desirable in numerous applications such as in the aerospace industry, where preventing contamination of highly sensitive instrumentation may be critical.
Excellent Chemical Resistance
Versilon™ F-5500-A tubing provides excellent resistance to corrosive chemicals, oils, fuels, solvents and most mineral acids. Versilon™ F-5500- A tubing is highly flexible and resilient, making it the ideal choice in peristaltic pumping of extremely corrosive materials. Refer to the "Effect of Chemical and Temperature Environments on Physical Properties" chart on the back for a listing of common chemicals and their relative effect on the physical properties of Versilon™ F-5500-A tubing.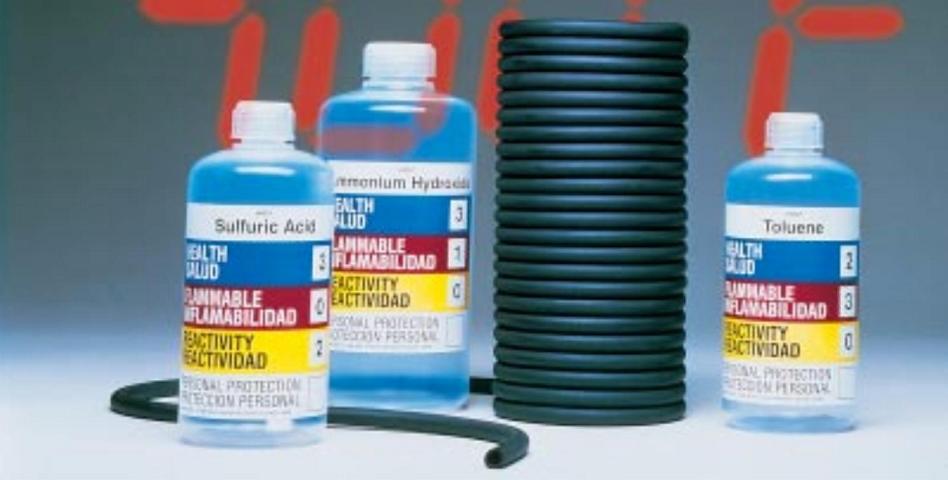 Features and benefits
provides continuous service at temperatures up to 204ºC (400ºF)
Excellent resistance to corrosive chemicals, oils, fuels and solvents
resists ozone, sunlight and weathering
Opaque black color helps protect light-sensitive fluids
Typical applications
Solvent recovery systems
Process monitoring equipment
Peristaltic pumping of concentrated acids
Fuel lubrication lines in high temperature equipment
O-rings, seals and gasketing
caustic hot air exhaust and sampling
dry cleaning fluid lines
chemical processing
Versilon™ Tube F-5500-A - Diameters and wall thickness
| Art.No. | Ø Inner | Ø Outer | Wall | Inch rounded | Crossref. |
| --- | --- | --- | --- | --- | --- |
| VS1,59FA3,18 | 1,59 mm (1/16") | 3,18 mm (1/8") | 0,79 mm (1/32") | 1,6 x 3,2 x 0,8 mm | AGN00002 |
| VS3,18FA6,35 | 3,18 mm (1/8") | 6,35 mm (1/4") | 1,59 mm (1/16") | 3,2 x 6,4 x 1,6 mm | AGN00007 |
| VS4,76FA7,94 | 4,76 mm (3/16") | 7,94 mm (5/16") | 1,59 mm (1/16") | 4,8 x 8,0 x 1,6 mm | AGN00012 |
| VS6,35FA9,53 | 6,35 mm (1/4") | 9,53 mm (3/8") | 1,59 mm (1/16") | 6,4 x 9,6 x 1,6 mm | AGN00017 |
| VS7,94FA11,11 | 7,94 mm (5/16") | 11,11 mm (7/16") | 1,59 mm (1/16") | 8,0 x 11,2 x 1,6 mm | AGN00022 |
| VS9,53FA12,7 | 9,53 mm (3/8") | 12,7 mm (1/2") | 1,59 mm (1/16") | | |
Typical Physical Properties of VersilonTM F-5500-A Tubing
| Property | ASTM Method | Value of Rating |
| --- | --- | --- |
| Durometer Hardness | D2240 | 60° Shore A, 15s |
| Color | - | Black |
| Specific Gravity | D792 | 1.90 |
| Tensile Strenght | D412 | 1.400 psi (9.3 MPa) |
| Ultimate Elongation | D412 | 300,00% |
| Tear Resistance | D1004 | 17.5 kN/m (100 lb-f/in) |
| Compression Set Constant Deflection @ 70°C (158°F) for 22 hrs | D395 | 37,00% |
| Tensile Set | D412 | 13,00% |
| Tensile Stress @100% Elongation | D412 | 350 psi (2.4 MPa) |
| Maximum Recommended Operating Temperature | - | 204° C (400°F) |
| Brittleness Temperature | D746 | -51°C (-60°F) |
| Water Absorption, 24 hrs. @ 23°C | D570 | 0.23 % |