Resistance, Low-cost and Robust Tubing
Low-Cost Solution for a wide range of Application
Extreme low waterabsorption, low specific weight, high impact resistance, stress crack resistance, good dielectric properties, flexibility, good wear resistance, recyclable and a good chemical resistance as well as a very good cost-efficiency make this tubing your best choice for many applications in different industries. Control line, laboratory technology, air and pneumatic lines, apparatus and tank construction, building installation, irrigation systems, disposable products, wire sheathing, drinking water facility, osmosis plant, water filter, waste water lines... just to mention some.
Specific Qualities and Custom-Made Products mostly at low order quantities
UV-stabilized for longer life, suitability for drinking water (DVGWW270, KTW, NSF and WRAS), medical, hydrolysis and microorganism resistant, different colors or dimensions,... please send us your request.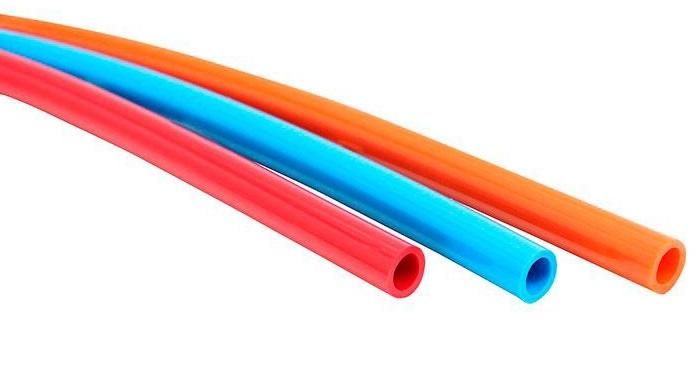 Features and benefits
taste and odor free
low Waterabsorption
flexible
recyclable
good chemical resistance
Typical applications
Food and Beverage Industry
drinking water lines
wire sheathing
Pool and Spa supply lines
Pneumatic
disposable products
building installations
watering
Polyethylen Tube - Diameters and wall thickness
| Art.No. | Ø Inner | Ø Outer | Wall | Color |
| --- | --- | --- | --- | --- |
| PE2,0BL4,0 | 2,0 mm | 4,0 mm | 1,0 mm | blue |
| PE2,0GL4,0 | 2,0 mm | 4,0 mm | 1,0 mm | yellow |
| PE2,0GN4,0 | 2,0 mm | 4,0 mm | 1,0 mm | green |
| PE2,0GR4,0 | 2,0 mm | 4,0 mm | 1,0 mm | grey |
| PE2,0NA4,0 | 2,0 mm | 4,0 mm | 1,0 mm | natural |
| PE2,0RT4,0 | 2,0 mm | 4,0 mm | 1,0 mm | red |
| PE2,0SW4,0 | 2,0 mm | 4,0 mm | 1,0 mm | black |
| PE2,5BL4,0 | 2,5 mm | 4,0 mm | 0,75 mm | blue |
| PE2,5GL4,0 | 2,5 mm | 4,0 mm | 0,75 mm | yellow |
| PE2,5GN4,0 | 2,5 mm | 4,0 mm | 0,75 mm | green |
| PE2,5GR4,0 | 2,5 mm | 4,0 mm | 0,75 mm | grey |
| PE2,5NA4,0 | 2,5 mm | 4,0 mm | 0,75 mm | natural |
| PE2,5RT4,0 | 2,5 mm | 4,0 mm | 0,75 mm | red |
| PE2,5SW4,0 | 2,5 mm | 4,0 mm | 0,75 mm | black |
| PE2,7BL4,0 | 2,7 mm | 4,0 mm | 0,65 mm | blue |
| PE2,7GL4,0 | 2,7 mm | 4,0 mm | 0,65 mm | yellow |
| PE2,7GN4,0 | 2,7 mm | 4,0 mm | 0,65 mm | green |
| PE2,7GR4,0 | 2,7 mm | 4,0 mm | 0,65 mm | grey |
| PE2,7NA4,0 | 2,7 mm | 4,0 mm | 0,65 mm | natural |
| PE2,7RT4,0 | 2,7 mm | 4,0 mm | 0,65 mm | red |
| PE2,7SW4,0 | 2,7 mm | 4,0 mm | 0,65 mm | black |
| PE3,0BL4,3 | 3,0 mm | 4,3 mm | 0,65 mm | blue |
| PE3,0BL5,0 | 3,0 mm | 5,0 mm | 1,0 mm | blue |
| PE3,0GL4,3 | 3,0 mm | 4,3 mm | 0,65 mm | yellow |
| PE3,0GL5,0 | 3,0 mm | 5,0 mm | 1,0 mm | yellow |
| PE3,0GN4,3 | 3,0 mm | 4,3 mm | 0,65 mm | green |
| PE3,0GN5,0 | 3,0 mm | 5,0 mm | 1,0 mm | green |
| PE3,0GR4,3 | 3,0 mm | 4,3 mm | 0,65 mm | grey |
| PE3,0GR5,0 | 3,0 mm | 5,0 mm | 1,0 mm | grey |
| PE3,0NA4,3 | 3,0 mm | 4,3 mm | 0,65 mm | natural |
| PE3,0NA5,0 | 3,0 mm | 5,0 mm | 1,0 mm | natural |
| PE3,0RT4,3 | 3,0 mm | 4,3 mm | 0,65 mm | red |
| PE3,0RT5,0 | 3,0 mm | 5,0 mm | 1,0 mm | red |
| PE3,0SW4,3 | 3,0 mm | 4,3 mm | 0,65 mm | black |
| PE3,0SW5,0 | 3,0 mm | 5,0 mm | 1,0 mm | black |
| PE4,0BL6,0 | 4,0 mm | 6,0 mm | 1,0 mm | blue |
| PE4,0GL6,0 | 4,0 mm | 6,0 mm | 1,0 mm | yellow |
| PE4,0GN6,0 | 4,0 mm | 6,0 mm | 1,0 mm | green |
| PE4,0GR6,0 | 4,0 mm | 6,0 mm | 1,0 mm | grey |
| PE4,0NA6,0 | 4,0 mm | 6,0 mm | 1,0 mm | natural |
| PE4,0RT6,0 | 4,0 mm | 6,0 mm | 1,0 mm | red |
| PE4,0SW6,0 | 4,0 mm | 6,0 mm | 1,0 mm | black |
| PE4,3BL6,35JG | 4,3 mm | 6,35 mm (1/4") | 1,03 mm | blue |
| PE4,3NA6,35JG | 4,3 mm | 6,35 mm (1/4") | 1,03 mm | natural |
| PE4,3SW6,35JG | 4,3 mm | 6,35 mm (1/4") | 1,03 mm | black |
| PE5,0BL8,0 | 5,0 mm | 8,0 mm | 1,5 mm | blue |
| PE5,0GL8,0 | 5,0 mm | 8,0 mm | 1,5 mm | yellow |
| PE5,0GN8,0 | 5,0 mm | 8,0 mm | 1,5 mm | green |
| PE5,0GR8,0 | 5,0 mm | 8,0 mm | 1,5 mm | grey |
| PE5,0NA8,0 | 5,0 mm | 8,0 mm | 1,5 mm | natural |
| PE5,0RT8,0 | 5,0 mm | 8,0 mm | 1,5 mm | red |
| PE5,0SW8,0 | 5,0 mm | 8,0 mm | 1,5 mm | black |
| PE6,0BL10,0 | 6,0 mm | 10,0 mm | 2,0 mm | blue |
| PE6,0BL8,0 | 6,0 mm | 8,0 mm | 1,0 mm | blue |
| PE6,0BL9,0 | 6,0 mm | 9,0 mm | 1,5 mm | blue |
| PE6,0GL10,0 | 6,0 mm | 10,0 mm | 2,0 mm | yellow |
| PE6,0GL8,0 | 6,0 mm | 8,0 mm | 1,0 mm | yellow |
| PE6,0GL9,0 | 6,0 mm | 9,0 mm | 1,5 mm | yellow |
| PE6,0GN10,0 | 6,0 mm | 10,0 mm | 2,0 mm | green |
| PE6,0GN8,0 | 6,0 mm | 8,0 mm | 1,0 mm | green |
| PE6,0GN9,0 | 6,0 mm | 9,0 mm | 1,5 mm | green |
| PE6,0GR10,0 | 6,0 mm | 10,0 mm | 2,0 mm | grey |
| PE6,0GR8,0 | 6,0 mm | 8,0 mm | 1,0 mm | grey |
| PE6,0GR9,0 | 6,0 mm | 9,0 mm | 1,5 mm | grey |
| PE6,0NA10,0 | 6,0 mm | 10,0 mm | 2,0 mm | natural |
| PE6,0NA7,0 | 6,0 mm | 7,0 mm | 0,5 mm | natural |
| PE6,0NA8,0 | 6,0 mm | 8,0 mm | 1,0 mm | natural |
| PE6,0NA9,0 | 6,0 mm | 9,0 mm | 1,5 mm | natural |
| PE6,0RT10,0 | 6,0 mm | 10,0 mm | 2,0 mm | red |
| PE6,0RT8,0 | 6,0 mm | 8,0 mm | 1,0 mm | red |
| PE6,0RT9,0 | 6,0 mm | 9,0 mm | 1,5 mm | red |
| PE6,0SW10,0 | 6,0 mm | 10,0 mm | 2,0 mm | black |
| PE6,0SW8,0 | 6,0 mm | 8,0 mm | 1,0 mm | black |
| PE6,0SW9,0 | 6,0 mm | 9,0 mm | 1,5 mm | black |
| PE6,35BL9,53JG | 6,35 mm (1/4") | 9,53 mm (3/8") | 1,59 mm (1/16") | blue |
| PE6,35NA9,53JG | 6,35 mm (1/4") | 9,53 mm (3/8") | 1,59 mm (1/16") | natural |
| PE6,35SW9,53JG | 6,35 mm (1/4") | 9,53 mm (3/8") | 1,59 mm (1/16") | black |
| PE7,0BL10,0 | 7,0 mm | 10,0 mm | 1,5 mm | blue |
| PE7,0GL10,0 | 7,0 mm | 10,0 mm | 1,5 mm | yellow |
| PE7,0GN10,0 | 7,0 mm | 10,0 mm | 1,5 mm | green |
| PE7,0GR10,0 | 7,0 mm | 10,0 mm | 1,5 mm | grey |
| PE7,0NA10,0 | 7,0 mm | 10,0 mm | 1,5 mm | natural |
| PE7,0RT10,0 | 7,0 mm | 10,0 mm | 1,5 mm | red |
| PE7,0SW10,0 | 7,0 mm | 10,0 mm | 1,5 mm | black |
| PE8,0BL10,0 | 8,0 mm | 10,0 mm | 1,0 mm | blue |
| PE8,0BL12,0 | 8,0 mm | 12,0 mm | 2,0 mm | blue |
| PE8,0GL10,0 | 8,0 mm | 10,0 mm | 1,0 mm | yellow |
| PE8,0GL12,0 | 8,0 mm | 12,0 mm | 2,0 mm | yellow |
| PE8,0GN10,0 | 8,0 mm | 10,0 mm | 1,0 mm | green |
| PE8,0GR10,0 | 8,0 mm | 10,0 mm | 1,0 mm | grey |
| PE8,0GR12,0 | 8,0 mm | 12,0 mm | 2,0 mm | grey |
| PE8,0NA10,0 | 8,0 mm | 10,0 mm | 1,0 mm | natural |
| PE8,0NA12,0 | 8,0 mm | 12,0 mm | 2,0 mm | natural |
| PE8,0NA9,5 | 8,0 mm | 9,5 mm | 0,75 mm | natural |
| PE8,0RT10,0 | 8,0 mm | 10,0 mm | 1,0 mm | red |
| PE8,0RT12,0 | 8,0 mm | 12,0 mm | 2,0 mm | red |
| PE8,0SW10,0 | 8,0 mm | 10,0 mm | 1,0 mm | black |
| PE8,0SW12,0 | 8,0 mm | 12,0 mm | 2,0 mm | black |
| PE8,0SW12,0 | 8,0 mm | 12,0 mm | 2,0 mm | green |
| PE9,0BL11,5 | 9,0 mm | 11,5 mm | 1,25 mm | blue |
| PE9,0BL12,0 | 9,0 mm | 12,0 mm | 1,5 mm | blue |
| PE9,0GL11,5 | 9,0 mm | 11,5 mm | 1,25 mm | yellow |
| PE9,0GL12,0 | 9,0 mm | 12,0 mm | 1,5 mm | yellow |
| PE9,0GN11,5 | 9,0 mm | 11,5 mm | 1,25 mm | green |
| PE9,0GN12,0 | 9,0 mm | 12,0 mm | 1,5 mm | green |
| PE9,0GR11,5 | 9,0 mm | 11,5 mm | 1,25 mm | grey |
| PE9,0GR12,0 | 9,0 mm | 12,0 mm | 1,5 mm | grey |
| PE9,0NA11,5 | 9,0 mm | 11,5 mm | 1,25 mm | natural |
| PE9,0NA12,0 | 9,0 mm | 12,0 mm | 1,5 mm | natural |
| PE9,0RT11,5 | 9,0 mm | 11,5 mm | 1,25 mm | red |
| PE9,0RT12,0 | 9,0 mm | 12,0 mm | 1,5 mm | red |
| PE9,0SW11,5 | 9,0 mm | 11,5 mm | 1,25 mm | black |
| PE9,0SW12,0 | 9,0 mm | 12,0 mm | 1,5 mm | black |
| PE9,53BL12,7JG | 9,53 mm (3/8") | 12,7 mm (1/2") | 1,59 mm (1/16") | blue |
| PE9,53NA12,7JG | 9,53 mm (3/8") | 12,7 mm (1/2") | 1,59 mm (1/16") | natural |
| PE9,53SW12,7JG | 9,53 mm (3/8") | 12,7 mm (1/2") | 1,59 mm (1/16") | black |
| PE10,0BL12,0 | 10,0 mm | 12,0 mm | 1,0 mm | blue |
| PE10,0GL12,0 | 10,0 mm | 12,0 mm | 1,0 mm | yellow |
| PE10,0GN12,0 | 10,0 mm | 12,0 mm | 1,0 mm | green |
| PE10,0GR12,0 | 10,0 mm | 12,0 mm | 1,0 mm | grey |
| PE10,0NA12,0 | 10,0 mm | 12,0 mm | 1,0 mm | natural |
| PE10,0RT12,0 | 10,0 mm | 12,0 mm | 1,0 mm | red |
| PE10,0SW12,0 | 10,0 mm | 12,0 mm | 1,0 mm | black |
| PE11,0BL14,0 | 11,0 mm | 14,0 mm | 1,5 mm | blue |
| PE11,0GL14,0 | 11,0 mm | 14,0 mm | 1,5 mm | yellow |
| PE11,0GN14,0 | 11,0 mm | 14,0 mm | 1,5 mm | green |
| PE11,0GR14,0 | 11,0 mm | 14,0 mm | 1,5 mm | grey |
| PE11,0NA14,0 | 11,0 mm | 14,0 mm | 1,5 mm | natural |
| PE11,0RT14,0 | 11,0 mm | 14,0 mm | 1,5 mm | red |
| PE11,0SW14,0 | 11,0 mm | 14,0 mm | 1,5 mm | black |
| PE11,5BL15,0JG | 11,5 mm | 15,0 mm | 1,75 mm | blue |
| PE12,0BL15,0 | 12,0 mm | 15,0 mm | 1,5 mm | blue |
| PE12,0GL15,0 | 12,0 mm | 15,0 mm | 1,5 mm | yellow |
| PE12,0GN15,0 | 12,0 mm | 15,0 mm | 1,5 mm | green |
| PE12,0GR15,0 | 12,0 mm | 15,0 mm | 1,5 mm | grey |
| PE12,0NA15,0 | 12,0 mm | 15,0 mm | 1,5 mm | natural |
| PE12,0RT15,0 | 12,0 mm | 15,0 mm | 1,5 mm | red |
| PE12,0SW15,0 | 12,0 mm | 15,0 mm | 1,5 mm | black |
| PE13,0BL16,0 | 13,0 mm | 16,0 mm | 1,5 mm | blue |
| PE13,0GL16,0 | 13,0 mm | 16,0 mm | 1,5 mm | yellow |
| PE13,0GN16,0 | 13,0 mm | 16,0 mm | 1,5 mm | green |
| PE13,0GR16,0 | 13,0 mm | 16,0 mm | 1,5 mm | grey |
| PE13,0NA16,0 | 13,0 mm | 16,0 mm | 1,5 mm | natural |
| PE13,0RT16,0 | 13,0 mm | 16,0 mm | 1,5 mm | red |
| PE13,0SW16,0 | 13,0 mm | 16,0 mm | 1,5 mm | black |
| PE14,0BL18,0 | 14,0 mm | 18,0 mm | 2,0 mm | blue |
| PE14,0GL18,0 | 14,0 mm | 18,0 mm | 2,0 mm | yellow |
| PE14,0GN18,0 | 14,0 mm | 18,0 mm | 2,0 mm | green |
| PE14,0GR18,0 | 14,0 mm | 18,0 mm | 2,0 mm | grey |
| PE14,0NA18,0 | 14,0 mm | 18,0 mm | 2,0 mm | natural |
| PE14,0RT18,0 | 14,0 mm | 18,0 mm | 2,0 mm | red |
| PE14,0SW18,0 | 14,0 mm | 18,0 mm | 2,0 mm | black |
| PE16,0BL20,0 | 16,0 mm | 20,0 mm | 2,0 mm | blue |
| PE16,0GL20,0 | 16,0 mm | 20,0 mm | 2,0 mm | yellow |
| PE16,0GN20,0 | 16,0 mm | 20,0 mm | 2,0 mm | green |
| PE16,0GR20,0 | 16,0 mm | 20,0 mm | 2,0 mm | grey |
| PE16,0NA20,0 | 16,0 mm | 20,0 mm | 2,0 mm | natural |
| PE16,0RT20,0 | 16,0 mm | 20,0 mm | 2,0 mm | red |
| PE16,0SW20,0 | 16,0 mm | 20,0 mm | 2,0 mm | black |
Typical physical Properties of Optiflex Polyethylen
| Property | Value |
| --- | --- |
| Hardness | 45° Shore D |
| Specific Gravity | 0,87-0,94 g/cm3 |
| Working Temperature | -40°C to +80°C |
| Yield Stress | 10 N/mm3 |
| Elongation at break | 650,00% |
| Dielectric Strenght | 750 kV/cm |
| Dielectric Loss Factor | <2x10-4 |
| Specific Resistance | 1017 Ω x cm |
| Waterabsorption, 24 h. at 23°C | < 0,015% |