PEEK Capillaries - Hard Rigid Resistant High Pressure
Enormous Material Hardness – Highest Pressures
Highest Rigidity with excellent lubricity and boasts a continuous working temperature. Highest tensile and flexural strenght, extreme impact resistance, high dynamic resilience, stress crack resistance, highest thermooxidative stability, rigid and resistant to abrasion ...PEEK is the hardest of all Plastics and reaches mechanical strenght properties of metal.
Optiflon PEEK-Capillary is not swellable and aging resistant. Aside of its mechanical strenght properties it also provides an excellent chemcial resistance.
Applications
Due to its high pressure resistance (up to 600 bar / 8700 psi) Optiflon PEEK is used as alternative to metal in chromatography (HPLC).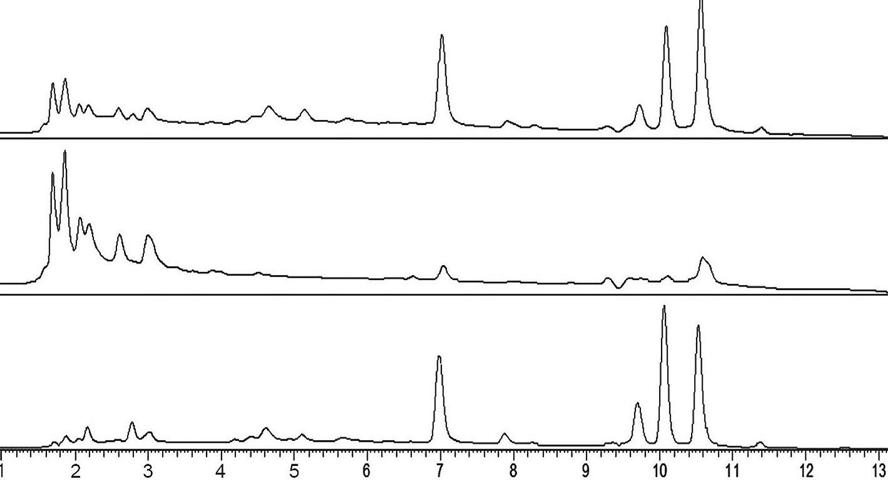 Features and benefits
High Chemical Resistance
Enormous Mechanical Strenght
Highest Pressures
Wide Temperature Range
Inert and Biokompatible
Color coded
Flameresitant UL 94 V-0
Typical applications
High-Performance Liquid Chromatography (HPLC)
Medical
Automotive
PEEK Kapillare - Diameters and wall thickness
| Art.No. | Ø Inner | Ø Outer | Wall | Color code |
| --- | --- | --- | --- | --- |
| PK0,064NA1,59 | 0,064 mm (0.005") | 1,59 mm (1/16") | 0,813 mm | natural |
| PK0,102SW1,59 | 0,102 mm (0,004") | 1,59 mm (1/16") | 0,744 mm | black |
| PK0,127NA0,79 | 0,127 mm (0.005") | 0,79 mm (1/32") | 0,332 mm | natural |
| PK0,127RT1,59 | 0,127 mm (0.005") | 1,59 mm (1/16") | 0,732 mm | red stripe |
| PK0,178GL1,59 | 0,178 mm (0.007") | 1,59 mm (1/16") | 0,706 mm | yellow stripe |
| PK0,178NA0,79 | 0,178 mm (0.007") | 0,79 mm (1/32") | 0,306 mm | natural |
| PK0,254BL1,59 | 0,254 mm (0.01") | 1,59 mm (1/16") | 0,668 mm | blue stripe |
| PK0,254NA0,79 | 0,254 mm (0.01") | 0,79 mm (1/32") | 0,268 mm | natural |
| PK0,381NA0,79 | 0,381 mm (0,015") | 0,79 mm (1/32") | 0,205 mm | natural |
| PK0,508OR0,79 | 0,508 mm (0.02") | 0,79 mm (1/32") | 0,141 mm | orange |
| PK0,762GN1,59 | 0,762 mm (0.03") | 1,59 mm (1/16") | 0,414 mm | green stripe |
| PK0,762NA3,18 | 0,762 mm (0.03") | 3,18 mm (1/8") | 1,209 mm | natural |
| PK1,016GR1,59 | 1,016 mm (0,04") | 1,59 mm (1/16") | 0,287mm | grey stripe |
| PK1,016NA1,59 | 1,016 mm (0,04") | 1,59 mm (1/16") | 0,287mm | natural |
| PK1,4SW1,59 | 1,4 mm | 1,59 mm (1/16") | 0,095 mm | black stripe |
| PK1,59NA3,18 | 1,59 mm (1/16") | 3,18 mm (1/8") | 0,79 mm (1/32") | natural |
| PK2,0NA3,18 | 2,032 mm (0,08") | 3,18 mm (1/8") | 0,574 mm | natural |
| PK3,18NA6,35 | 3,18 mm (1/8") | 6,35 mm (1/4") | 1,59 mm (1/16") | natural |
Typical Physical Properties of Optiflon PEEK Capillary
| Property | ASTM Method | Value |
| --- | --- | --- |
| Hardness | D2240 | 84,5° Shore D |
| Density | D792 | 1,3 |
| Tensile Strenght | ISO 527 | 98-100 MPa |
| Elongation at Break | ISO 527 | 40-45% |
| Modulus of Elasticity | D527 | 3700-4000 MPa |
| Flexural Modulus | ISO 178 | 3800-4200 MPa |
| Flexural Modulus | D1894 | 0,58 |
| Maximum Service Temperature Air | - | 260°C |
| Volume Resistivity | D257 | 1.0 x 10E16 Ω - cm |
| Dielectric Strength | - | 584,2 V/mil |
| Water Absorption | ISO 62-1 | 0,07 – 0,45 % |