Non DEHP Laboratory Tygon® Tubing
Crystal clear and flexible, long-lasting tubing
Crystal clear and flexible, long-lasting and crack-resistant, new Tygon® LMT-55 non-DEHP laboratory and vacuum Tubing delivery the same superior performance you've come to expect, but now in a formulation that contains a non-DEHP plasticizer. Replacing DEHP with a globally accepted substitute eliminates concerns about potentially harmful health effects from repeated exposure to high levels of DEHP leachates.
Tygon® LMT-55 Tubing handles most inorganic chemicals found in the laboratory. It is non-oxidizing and non-contaminating and less permeable than rubber tubing. The glassy-smooth inner bore helps prevent buildup to facilitate cleaning and coils are marked at 30,4 cm (1 foot) intervals for easy measuring.
Tygon® LMT-55 Laboratory Tubing may be safely sterilized by autoclave and due to its excellent chemical resistance, may lso be sterilized chemically or by gas (ethylene oxide).
Engineered to last
Tygon® LMT-55 Laboratory Tubing is specially formulated for resistance to flex-fatigue and abrasion. In many peristaltic pump applications, it will outlast its nearest competitor by at least 2 to 1.
As a tubing for instrumentation connection, vent, drain and other general laboratory applications, Tygon® LMT-55 offer superior life, which minimizes the labor and expense of replacement.
Available in Vacuum Sizes
Tygon® LMT-55 Vacuum Tubing has extra heavy walls that will withstand a full vacuum at room temperature 760 mm (29,9") of mercury at 23°C (73°F) and up to 686 mm (27") of mercury at 60°C (140°F). Like standard Tygon® Laboratory Tubing, Tygon® LMT-55 Vacuum Tubing resists most inorganic chemicals and can be used in corrosive atmosphere.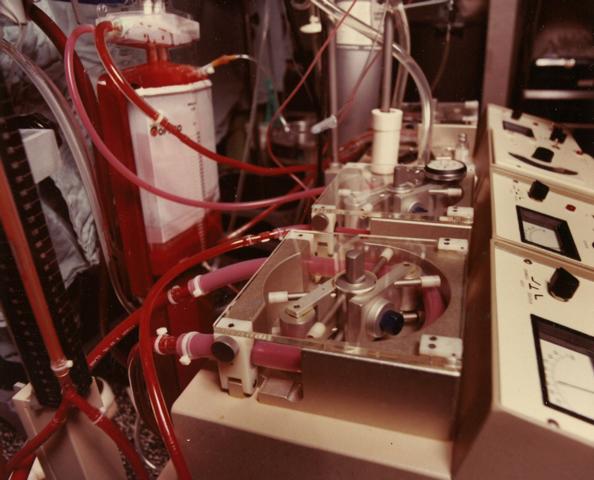 Features and Benefits
crystal clear and flexible
lot-to-lot consistency
contains no BPA
handles most inorganic chemicals
non-oxidizing and noncontaminating
outlasts other clear tubing in peristaltic pumps
Typical Applications
General laboratory
Peristaltic and vacuum pumps
Condensers, incubators, desiccators, gas and drain lines
Tygon® Tube LMT-55 - Diameters and wall thickness
| Art.No. | Ø Inner | Ø Outer | Wall | Color code | collar | Crossref. |
| --- | --- | --- | --- | --- | --- | --- |
| LM0,13OR2SW | 0,13 mm | 1,93 mm | 0,90 mm | orange-black | 2 | 070534-00-ND |
| LM0,13OR3SW | 0,13 mm | 1,93 mm | 0,90 mm | orange-black | 3 | 070535-00-ND |
| LM0,19OR2RT | 0,19 mm | 1,99 mm | 0,90 mm | orange-red | 2 | 070534-01-ND |
| LM0,19OR3RT | 0,19 mm | 1,99 mm | 0,90 mm | orange-red | 3 | 070535-01-ND |
| LM0,25OR2BL | 0,25 mm | 2,05 mm | 0,90 mm | orange-blue | 2 | 070534-02-ND |
| LM0,25OR3BL | 0,25 mm | 2,05 mm | 0,90 mm | orange-blue | 3 | 070535-02-ND |
| LM0,38OR2GN | 0,38 mm | 2,18 mm | 0,90 mm | orange-green | 2 | 070534-03-ND |
| LM0,38OR3GN | 0,38 mm | 2,18 mm | 0,90 mm | orange-green | 3 | 070535-03-ND |
| LM0,44GN2GL | 0,44 mm | 2,24 mm | 0,90 mm | green-yellow | 2 | 070534-04-ND |
| LM0,44GN3GL | 0,44 mm | 2,24 mm | 0,90 mm | green-yellow | 3 | 070535-04-ND |
| LM0,51OR2GL | 0,51 mm | 2,31 mm | 0,90 mm | orange-yellow | 2 | 070534-05-ND |
| LM0,51OR3GL | 0,51 mm | 2,31 mm | 0,90 mm | orange-yellow | 3 | 070535-05-ND |
| LM0,57WS2GL | 0,57 mm | 2,37 mm | 0,90 mm | white-yellow | 2 | 070534-06-ND |
| LM0,57WS3GL | 0,57 mm | 2,37 mm | 0,90 mm | white-yellow | 3 | 070535-06-ND |
| LM0,64OR2WS | 0,64 mm | 2,44 mm | 0,90 mm | orange-white | 2 | 070534-07-ND |
| LM0,64OR3WS | 0,64 mm | 2,44 mm | 0,90 mm | orange-white | 3 | 070535-07-ND |
| LM0,76SW2SW | 0,76 mm | 2,46 mm | 0,85 mm | black-black | 2 | 070534-08-ND |
| LM0,76SW3SW | 0,76 mm | 2,46 mm | 0,85 mm | black-black | 3 | 070535-08-ND |
| LM0,89OR2OR | 0,89 mm | 2,59 mm | 0,85 mm | orange-orange | 2 | 070534-09-ND |
| LM0,89OR3OR | 0,89 mm | 2,59 mm | 0,85 mm | orange-orange | 3 | 070535-09-ND |
| LM0,95WS2SW | 0,95 mm | 2,65 mm | 0,85 mm | white-black | 2 | 070534-10-ND |
| LM0,95WS3SW | 0,95 mm | 2,65 mm | 0,85 mm | white-black | 3 | 070535-10-ND |
| LM1,02WS2WS | 1,02 mm | 2,72 mm | 0,85 mm | white-white | 2 | 070534-11-ND |
| LM1,02WS3WS | 1,02 mm | 2,72 mm | 0,85 mm | white-white | 3 | 070535-11-ND |
| LM1,09WS2RT | 1,09 mm | 2,79 mm | 0,85 mm | white-red | 2 | 070534-12-ND |
| LM1,09WS3RT | 1,09 mm | 2,79 mm | 0,85 mm | white-red | 3 | 070535-12-ND |
| LM1,14RT2RT | 1,14 mm | 2,84 mm | 0,85 mm | red-red | 2 | 070534-13-ND |
| LM1,14RT3RT | 1,14 mm | 2,84 mm | 0,85 mm | red-red | 3 | 070535-13-ND |
| LM1,22RT2GR | 1,22 mm | 2,92 mm | 0,85 mm | red-grey | 2 | 070534-14-ND |
| LM1,22RT3GR | 1,22 mm | 2,92 mm | 0,85 mm | red-grey | 3 | 070535-14-ND |
| LM1,3GR2GR | 1,30 mm | 3,00 mm | 0,85 mm | grey-grey | 2 | 070534-15-ND |
| LM1,3GR3GR | 1,30 mm | 3,00 mm | 0,85 mm | grey-grey | 3 | 070535-15-ND |
| LM1,42GL2GL | 1,42 mm | 3,12 mm | 0,85 mm | yellow-yellow | 2 | 070534-16-ND |
| LM1,42GL3GL | 1,42 mm | 3,12 mm | 0,85 mm | yellow-yellow | 3 | 070535-16-ND |
| LM1,52GL2BL | 1,52 mm | 3,22 mm | 0,85 mm | yellow-blue | 2 | 070534-17-ND |
| LM1,52GL3BL | 1,52 mm | 3,22 mm | 0,85 mm | yellow-blue | 3 | 070535-17-ND |
| LM1,65BL2BL | 1,65 mm | 3,35 mm | 0,85 mm | blue-blue | 2 | 070534-18-ND |
| LM1,65BL3BL | 1,65 mm | 3,35 mm | 0,85 mm | blue-blue | 3 | 070535-19-ND |
| LM1,75BL2GN | 1,75 mm | 3,45 mm | 0,85 mm | blue-green | 2 | 070534-19-ND |
| LM1,75BL3GN | 1,75 mm | 3,45 mm | 0,85 mm | blue-green | 3 | |
| LM1,85GN2GN | 1,85 mm | 3,55 mm | 0,85 mm | green-green | 2 | 070534-20-ND |
| LM1,85GN3GN | 1,85 mm | 3,55 mm | 0,85 mm | green-green | 3 | 070535-20-ND |
| LM2,06VO2VO | 2,06 mm | 3,76 mm | 0,85 mm | purple-purple | 2 | 070534-21-ND |
| LM2,06VO3VO | 2,06 mm | 3,76 mm | 0,85 mm | purple-purple | 3 | 070535-21-ND |
| LM2,29VO2SW | 2,29 mm | 3,99 mm | 0,85 mm | purple-black | 2 | 070534-22-ND |
| LM2,29VO3SW | 2,29 mm | 3,99 mm | 0,85 mm | purple-black | 3 | 070535-22-ND |
| LM2,54VO2OR | 2,54 mm | 4,24 mm | 0,85 mm | purple-orange | 2 | 070534-23-ND |
| LM2,54VO3OR | 2,54 mm | 4,24 mm | 0,85 mm | purple-orange | 3 | 070535-23-ND |
| LM2,79VO2WS | 2,79 mm | 4,49 mm | 0,85 mm | purple-white | 2 | 070534-24-ND |
| LM2,79VO3WS | 2,79 mm | 4,49 mm | 0,85 mm | purple-white | 3 | 070535-24-ND |
| LM3,17SW2WS | 3,17 mm | 4,87 mm | 0,85 mm | black-white | 2 | 070534-25-ND |
| LM3,17SW3WS | 3,17 mm | 4,87 mm | 0,85 mm | black-white | 3 | 070535-25-ND |
| Art.No. | Ø Inner | Ø Outer | Wall | Inch rounded | Crossref. |
| --- | --- | --- | --- | --- | --- |
| TY0,13LM1,93 | 0,13 mm | 1,93 mm | 0,9 mm | | 070534-00L-ND |
| TY0,19LM1,99 | 0,19 mm | 1,99 mm | 0,9 mm | | 070534-01L-ND |
| TY0,25LM2,05 | 0,25 mm | 2,05 mm | 0,9 mm | | 070534-02L-ND |
| TY0,38LM2,18 | 0,38 mm | 2,18 mm | 0,9 mm | | 070534-03L-ND |
| TY0,44LM2,24 | 0,44 mm | 2,24 mm | 0,9 mm | | |
| TY0,51LM2,31 | 0,51 mm | 2,31 mm | 0,9 mm | | 070534-05L-ND |
| TY0,57LM2,37 | 0,57 mm | 2,37 mm | 0,9 mm | | 070534-06L-ND |
| TY0,64LM2,44 | 0,64 mm | 2,44 mm | 0,9 mm | | 070534-07L-ND |
| TY0,76LM2,46 | 0,76 mm | 2,46 mm | 0,85 mm | | 070534-08L-ND |
| TY0,79LM2,38 | 0,79 mm (1/32") | 2,38 mm (3/32") | 0,79 mm (1/32") | | |
| TY0,89LM2,59 | 0,89 mm | 2,59 mm | 0,85 mm | | 070534-09L-ND |
| TY0,95LM2,65 | 0,95 mm | 2,65 mm | 0,85 mm | | 070534-10L-ND |
| TY1,02LM2,72 | 1,02 mm | 2,72 mm | 0,85 mm | | 070534-11L-ND |
| TY1,09LM2,79 | 1,09 mm | 2,79 mm | 0,85 mm | | 070534-12L-ND |
| TY1,14LM2,84 | 1,14 mm | 2,84 mm | 0,85 mm | | 070534-13L-ND |
| TY1,22LM2,92 | 1,22 mm | 2,92 mm | 0,85 mm | | 070534-14L-ND |
| TY1,3LM3,0 | 1,3 mm | 3,0 mm | 0,85 mm | | 070534-15L-ND |
| TY1,42LM3,12 | 1,42 mm | 3,12 mm | 0,85 mm | | 070534-16L-ND |
| TY1,52LM3,22 | 1,52 mm | 3,22 mm | 0,85 mm | | 070534-17L-ND |
| TY1,59LM3,18 | 1,59 mm (1/16") | 3,18 mm (1/8") | 0,79 mm (1/32") | 1,6 x 3,2 x 0,8 mm | ALH00002 |
| TY1,59LM4,76 | 1,59 mm (1/16") | 4,76 mm (3/16") | 1,59 mm (1/16") | 1,6 x 4,8 x 1,6 mm | ALH00003 |
| TY1,65LM3,35 | 1,65 mm | 3,35 mm | 0,85 mm | | 070534-18L-ND |
| TY1,75LM3,45 | 1,75 mm | 3,45 mm | 0,85 mm | | 070534-19L-ND |
| TY1,85LM3,55 | 1,85 mm | 3,55 mm | 0,85 mm | | 070534-20L-ND |
| TY2,06LM3,5 | 2,06 mm | 3,5 mm | 0,85 mm | | 070534-21L-ND |
| TY2,29LM3,99 | 2,29 mm | 3,99 mm | 0,85 mm | | 070534-22L-ND |
| TY2,38LM3,97 | 2,38 mm (3/32") | 3,97 mm (5/32") | 0,79 mm (1/32") | | |
| TY2,38LM5,56 | 2,38 mm (3/32") | 5,56 mm (7/32") | 1,59 mm (1/16") | 2,4 x 5,6 x 1,6 mm | ALH00005 |
| TY2,54LM4,24 | 2,54 mm | 4,24 mm | 0,85 mm | | 070534-23L-ND |
| TY2,79LM4,49 | 2,79 mm | 4,49 mm | 0,85 mm | | 070534-24L-ND |
| TY3,17LM4,87 | 3,17 mm | 4,87 mm | 0,85 mm | | 070534-25L-ND |
| TY3,18LM4,76 | 3,18 mm (1/8") | 4,76 mm (3/16") | 0,79 mm (1/32") | | |
| TY3,18LM6,35 | 3,18 mm (1/8") | 6,35 mm (1/4") | 1,59 mm (1/16") | 3,2 x 6,4 x 1,6 mm | ALH00007 |
| TY3,97LM5,56 | 3,97 mm (5/32") | 5,56 mm (7/32") | 0,79 mm (1/32") | | |
| TY3,97LM7,14 | 3,97 mm (5/32") | 7,14 mm (9/32") | 1,59 mm (1/16") | | |
| TY4,76LM11,11 | 4,76 mm (3/16") | 11,11 mm (7/16") | 3,18 mm (1/8") | | |
| TY4,76LM14,29 | 4,76 mm (3/16") | 14,29 mm (9/16") | 4,76 mm (3/16") | | |
| TY4,76LM6,35 | 4,76 mm (3/16") | 6,35 mm (1/4") | 0,79 mm (1/32") | | |
| TY4,76LM7,94 | 4,76 mm (3/16") | 7,94 mm (5/16") | 1,59 mm (1/16") | 4,8 x 7,9 x 1,6 mm | ALH00012 |
| TY4,76LM9,53 | 4,76 mm (3/16") | 9,53 mm (3/8") | 2,38 mm (3/32") | 4,8 x 9,5 x 2,4 mm | ALH00013 |
| TY6,35LM11,11 | 6,35 mm (1/4") | 11,11 mm (7/16") | 2,38 mm (3/32") | 6,4 x 11,1 x 2,4 mm | ALH00018 |
| TY6,35LM12,7 | 6,35 mm (1/4") | 12,7 mm (1/2") | 3,18 mm (1/8") | 6,4 x 12,7 x 3,2 mm | ALH00019 |
| TY6,35LM15,88 | 6,35 mm (1/4") | 15,88 mm (5/8") | 4,76 mm (3/16") | 6,4 x 16,0 x 4,8 mm | ALH00020 |
| TY6,35LM7,94 | 6,35 mm (1/4") | 7,94 mm (5/16") | 0,79 mm (1/32") | | |
| TY6,35LM9,53 | 6,35 mm (1/4") | 9,53 mm (3/8") | 1,59 mm (1/16") | 6,4 x 9,5 x 1,6 mm | ALH00017 |
| TY7,94LM11,11 | 7,94 mm (5/16") | 11,11 mm (7/16") | 1,59 mm (1/16") | 7,9 x 11,1 x 1,6 mm | ALH00022 |
| TY7,94LM12,7 | 7,94 mm (5/16") | 12,7 mm (1/2") | 2,38 mm (3/32") | 7,9 x 12,7 x 2,4 mm | ALH00023 |
| TY7,94LM14,29 | 7,94 mm (5/16") | 14,29 mm (9/16") | 3,18 mm (1/8") | | |
| TY7,94LM15,88 | 7,94 mm (5/16") | 15,88 mm (5/8") | 3,97 mm (5/32") | | |
| TY9,53LM12,7 | 9,53 mm (3/8") | 12,7 mm (1/2") | 1,59 mm (1/16") | 9,5 x 12,7 x 1,6 mm | ALH00027 |
| TY9,53LM14,29 | 9,53 mm (3/8") | 14,29 mm (9/16") | 2,38 mm (3/32") | | |
| TY9,53LM15,88 | 9,53 mm (3/8") | 15,88 mm (5/8") | 3,18 mm (1/8") | 9,5 x 15,9 x 3,2 mm | ALH00029 |
| TY9,53LM22,23 | 9,53 mm (3/8") | 22,23 mm (7/8") | 6,35 mm (1/4") | 9,5 x 22,3 x 6,4 mm | ALH00030 |
| TY11,11LM14,29 | 11,11 mm (7/16") | 14,29 mm (9/16") | 1,59 mm (1/16") | | |
| TY11,11LM15,88 | 11,11 mm (7/16") | 15,88 mm (5/8") | 2,38 mm (3/32") | | |
| TY11,11LM17,46 | 11,11 mm (7/16") | 17,46 mm (11/16") | 3,18 mm (1/8") | | |
| TY12,7LM15,88 | 12,7 mm (1/2") | 15,88 mm (5/8") | 1,59 mm (1/16") | | |
| TY12,7LM17,46 | 12,7 mm (1/2") | 17,46 mm (11/16") | 2,38 mm (3/32") | | |
| TY12,7LM19,05 | 12,7 mm (1/2") | 19,05 mm (3/4") | 3,18 mm (1/8") | 12,7 x 19,1 x 3,2 mm | ALH00038 |
| TY12,7LM20,64 | 12,7 mm (1/2") | 20,64 mm (13/16") | 3,97 mm (5/32") | | |
| TY12,7LM28,58 | 12,7 mm (1/2") | 28,58 mm (1-1/8") | 7,94 mm (5/16") | | |
| TY14,29LM19,05 | 14,29 mm (9/16") | 19,05 mm (3/4") | 2,38 mm (3/32") | | |
| TY14,29LM20,64 | 14,29 mm (9/16") | 20,64 mm (13/16") | 3,18 mm (1/8") | | |
| TY15,88LM20,64 | 15,88 mm (5/8") | 20,64 mm (13/16") | 2,38 mm (3/32") | | |
| TY15,88LM22,23 | 15,88 mm (5/8") | 22,23 mm (7/8") | 3,18 mm (1/8") | | |
| TY15,88LM23,81 | 15,88 mm (5/8") | 23,81 mm (15/16") | 3,97 mm (5/32") | | |
| TY15,88LM34,93 | 15,88 mm (5/8") | 34,93 mm (1-3/8") | 9,53 mm (3/8") | | |
| TY17,46LM22,23 | 17,46 mm (11/16") | 22,23 mm (7/8") | 2,38 mm (3/32") | | |
| TY19,05LM25,4 | 19,05 mm (3/4") | 25,4 mm (1") | 3,18 mm (1/8") | | |
| TY19,05LM26,99 | 19,05 mm (3/4") | 26,99 mm (1-1/16") | 3,97 mm (5/32") | | |
| TY19,05LM28,58 | 19,05 mm (3/4") | 28,58 mm (1-1/8") | 4,76 mm (3/16") | | |
| TY19,05LM31,75 | 19,05 mm (3/4") | 31,75 mm (1-1/4") | 6,35 mm (1/4") | | |
| TY19,05LM38,1 | 19,05 mm (3/4") | 38,1 mm (1-1/2") | 9,53 mm (3/8") | | |
| TY22,23LM28,58 | 22,23 mm (7/8") | 28,58 mm (1-1/8") | 3,18 mm (1/8") | | |
| TY22,23LM30,16 | 22,23 mm (7/8") | 30,16 mm (1-316") | 3,97 mm (5/32") | | |
| TY25,4LM31,75 | 25,4 mm (1") | 31,75 mm (1-1/4") | 3,18 mm (1/8") | | |
| TY25,4LM34,93 | 25,4 mm (1") | 34,93 mm (1-3/8") | 4,76 mm (3/16") | | |
| TY25,4LM38,1 | 25,4 mm (1") | 38,1 mm (1-1/2") | 6,35 mm (1/4") | | |
| TY25,4LM50,8 | 25,4 mm (1") | 50,8 mm (2") | 12,7 mm (1/2") | | |
| TY28,58LM38,1 | 28,58 mm (1-1/8") | 38,1 mm (1-1/2") | 4,76 mm (3/16") | | |
| TY31,75LM38,1 | 31,75 mm (1-1/4") | 38,1 mm (1-1/2") | 3,18 mm (1/8") | | |
| TY31,75LM41,28 | 31,75 mm (1-1/4") | 41,28 mm (1-5/8") | 4,76 mm (3/16") | | |
| TY31,75LM44,45 | 31,75 mm (1-1/4") | 44,45 mm (1-3/4") | 6,35 mm (1/4") | | |
| TY38,1LM47,63 | 38,1 mm (1-1/2") | 47,63 mm (1-7/8") | 4,76 mm (3/16") | | |
| TY38,1LM50,8 | 38,1 mm (1-1/2") | 50,8 mm (2") | 6,35 mm (1/4") | | |
| TY44,45LM57,15 | 44,45 mm (1-3/4") | 57,15 mm (2-1/4") | 6,35 mm (1/4") | | |
| TY50,8LM63,5 | 50,8 mm (2") | 63,5 mm (2-1/2") | 6,35 mm (1/4") | | |
Typical Physical Properties of Tygon® LMT-55 Laboratory Tubing
| Property | ASTM Method | Value of Rating |
| --- | --- | --- |
| Durometer Hardness | D2240-2 | 55° Shore A, 15s |
| Color | - | clear |
| Tensile Strength | D412-98 | 11,4 MPa |
| Ultimate Elongation | D412-98 | 450,00% |
| Tear Resistance | D1004-94 | 22 kN/m |
| Specific Gravity | D792-00 | 1,18 |
| Maximum Recommended Operating Temperature | - | 74°C (165°F) |
| Brittleness by Impact Temperature | D746-98 | -50°C (-58°F) |
| Water Absorption, % 24 hrs. @ 23°C | D570-98 | 0,24 |
| Dielectric Strength | D149-97 | 23,9 kV/mm |
| Tensile Modulus at 100% elongation | D412-98 | 4,5 MPa |
| Tensile Set | D412-98 | 107,00% |