Optiflon PTFE - chemical Resistance for high Temperature
Excellent Chemical Resistance
This fully fluorinated Fluorpolymer Tubing provides outstanding almost universal Resistance against acids and bases, solvents and gases. Oxygen, Ozone and UV-Light don't have an effect.
Extreme High Temperature
Depending on mechanical or chemical stress Optiflon PTFE Tube can be used from -200°C up to +260°C. Its not flameable.
Physiologically Harmless
Free of extractable substances, Optiflon PTFE Tubing is physiologically harmless, biocompatible and autoclavable.
Outstanding Sliding Properties
The Surface of Optiflon PTFE Tube provides a the lowest frictional coefficient. This makes it the first choice for sliding-glide appications in production and plant construction.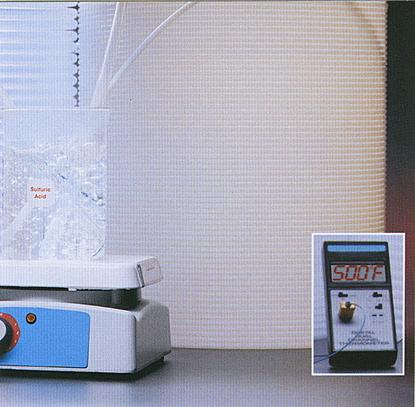 Features and benefits
-200°C to +260°C
almost universal chemical Resistance
outstanding sliding- and non-stick applications
not flameable
Typical applications
Analytic and Chemical Industries
medical engineering
food and bevarage
bowden cable in cars
parts supply in production and plant engineering
PTFE Tube - Diameters and wall thickness
| Art.No. | Ø Inner | Ø Outer | Wall | Color |
| --- | --- | --- | --- | --- |
| PT0,51WS1,59 | 0,51 mm (0.02") | 1,59 mm (1/16") | 0,54 mm | natural |
| PT0,79WS1,59 | 0,79 mm (1/32") | 1,59 mm (1/16") | 0,4 mm | natural |
| PT1,0WS1,59 | 1,0 mm | 1,59 mm (1/16") | 0,3 mm | natural |
| PT1,0WS2,0 | 1,0 mm | 2,0 mm | 0,5 mm | natural |
| PT1,0WS3,0 | 1,0 mm | 3,0 mm | 1,0 mm | natural |
| PT1,5WS2,5 | 1,5 mm | 2,5 mm | 0,5 mm | natural |
| PT1,5WS3,0 | 1,5 mm | 3,0 mm | 0,75 mm | natural |
| PT1,5WS3,5 | 1,5 mm | 3,5 mm | 1,0 mm | natural |
| PT1,59WS2,38 | 1,59 mm (1/16") | 2,38 mm (3/32") | 0,40 mm (1/64") | natural |
| PT1,59WS3,18 | 1,59 mm (1/16") | 3,18 mm (1/8") | 0,79 mm (1/32") | natural |
| PT1,59WS4,76 | 1,59 mm (1/16") | 4,76 mm (3/16") | 1,59 mm (1/16") | natural |
| PT1,7WS2,0 | 1,7 mm | 2,0 mm | 0,15 mm | natural |
| PT2,0WS3,0 | 2,0 mm | 3,0 mm | 0,5 mm | natural |
| PT2,0WS4,0 | 2,0 mm | 4,0 mm | 1,0 mm | natural |
| PT2,38WS3,18 | 2,38 mm (3/32") | 3,18 mm (1/8") | 0,40 mm (1/64") | natural |
| PT2,5WS3,5 | 2,5 mm | 3,5 mm | 0,5 mm | natural |
| PT2,5WS4,0 | 2,5 mm | 4,0 mm | 0,75 mm | natural |
| PT2,5WS4,5 | 2,5 mm | 4,5 mm | 1,0 mm | natural |
| PT3,0WS4,0 | 3,0 mm | 4,0 mm | 0,5 mm | natural |
| PT3,0WS4,5 | 3,0 mm | 4,5 mm | 0,75 mm | natural |
| PT3,0WS5,0 | 3,0 mm | 5,0 mm | 1,0 mm | natural |
| PT3,18WS3,97 | 3,18 mm (1/8") | 3,97 mm (5/32") | 0,40 mm (1/64") | natural |
| PT3,18WS4,76 | 3,18 mm (1/8") | 4,76 mm (3/16") | 0,79 mm (1/32") | natural |
| PT3,18WS6,35 | 3,18 mm (1/8") | 6,35 mm (1/4") | 1,59 mm (1/16") | natural |
| PT3,5WS4,5 | 3,5 mm | 4,5 mm | 0,5 mm | natural |
| PT3,5WS5,0 | 3,5 mm | 5,0 mm | 0,75 mm | natural |
| PT3,5WS5,5 | 3,5 mm | 5,5 mm | 1,0 mm | natural |
| PT4,0WS5,0 | 4,0 mm | 5,0 mm | 0,5 mm | natural |
| PT4,0WS5,5 | 4,0 mm | 5,5 mm | 0,75 mm | natural |
| PT4,0WS6,0 | 4,0 mm | 6,0 mm | 1,0 mm | natural |
| PT4,0WS7,0 | 4,0 mm | 7,0 mm | 1,5 mm | natural |
| PT4,5WS6,5 | 4,5 mm | 6,5 mm | 1,0 mm | natural |
| PT4,76WS6,35 | 4,76 mm (3/16") | 6,35 mm (1/4") | 0,79 mm (1/32") | natural |
| PT4,76WS7,94 | 4,76 mm (3/16") | 7,94 mm (5/16") | 1,59 mm (1/16") | natural |
| PT5,0WS6,0 | 5,0 mm | 6,0 mm | 0,5 mm | natural |
| PT5,0WS6,5 | 5,0 mm | 6,5 mm | 0,75 mm | natural |
| PT5,0WS7,0 | 5,0 mm | 7,0 mm | 1,0 mm | natural |
| PT5,0WS8,0 | 5,0 mm | 8,0 mm | 1,5 mm | natural |
| PT5,0WS9,0 | 5,0 mm | 9,0 mm | 2,0 mm | natural |
| PT5,5WS7,5 | 5,5 mm | 7,5 mm | 1,0 mm | natural |
| PT6,0SW10,0 | 6,0 mm | 10,0 mm | 2,0 mm | black |
| PT6,0WS10,0 | 6,0 mm | 10,0 mm | 2,0 mm | natural |
| PT6,0WS7,0 | 6,0 mm | 7,0 mm | 0,5 mm | natural |
| PT6,0WS8,0 | 6,0 mm | 8,0 mm | 1,5 mm | natural |
| PT6,0WS9,0 | 6,0 mm | 9,0 mm | 1,5 mm | natural |
| PT6,35WS12,7 | 6,35 mm (1/4") | 12,7 mm (1/2") | 3,18 mm (1/8") | natural |
| PT6,35WS7,94 | 6,35 mm (1/4") | 7,94 mm (5/16") | 0,79 mm (1/32") | natural |
| PT6,35WS9,53 | 6,35 mm (1/4") | 9,53 mm (3/8") | 1,59 mm (1/16") | natural |
| PT7,0WS10,0 | 7,0 mm | 10,0 mm | 1,5 mm | natural |
| PT7,0WS8,0 | 7,0 mm | 8,0 mm | 0,5 mm | natural |
| PT7,0WS9,0 | 7,0 mm | 9,0 mm | 1,0 mm | natural |
| PT7,5WS9,5 | 7,5 mm | 9,5 mm | 1,0 mm | natural |
| PT7,94WS9,53 | 7,94 mm (5/16") | 9,53 mm (3/8") | 1,59 mm (1/16") | natural |
| PT8,0SW10,0 | 8,0 mm | 10,0 mm | 2,0 mm | black |
| PT8,0WS10,0 | 8,0 mm | 10,0 mm | 1,0 mm | natural |
| PT8,0WS12,0 | 8,0 mm | 12,0 mm | 2,0 mm | natural |
| PT8,0WS9,0 | 8,0 mm | 9,0 mm | 0,5 mm | natural |
| PT8,0WS9,5 | 8,0 mm | 9,5 mm | 0,75 mm | natural |
| PT8,5WS10,5 | 8,5 mm | 10,5 mm | 1,0 mm | natural |
| PT9,0WS10,0 | 9,0 mm | 10,0 mm | 0,5 mm | natural |
| PT9,0WS10,5 | 9,0 mm | 10,5 mm | 0,75 mm | natural |
| PT9,0WS11,0 | 9,0 mm | 11,0 mm | 1,0 mm | natural |
| PT9,0WS12,0 | 9,0 mm | 12,0 mm | 1,5 mm | natural |
| PT9,53WS11,1 | 9,53 mm (3/8") | 11,11 mm (7/16") | 0,79 mm (1/32") | natural |
| PT9,53WS12,7 | 9,53 mm (3/8") | 12,7 mm (1/2") | 1,59 mm (1/16") | natural |
| PT10,0WS11,0 | 10,0 mm | 11,0 mm | 0,5 mm | natural |
| PT10,0WS12,0 | 10,0 mm | 12,0 mm | 1,0 mm | natural |
| PT10,0WS13,0 | 10,0 mm | 13,0 mm | 1,5 mm | natural |
| PT10,0WS14,0 | 10,0 mm | 14,0 mm | 2,0 mm | natural |
| PT10,0WS15,0 | 10,0 mm | 15,0 mm | 2,5 mm | natural |
| PT11,0WS13,0 | 11,0 mm | 13,0 mm | 1,0 mm | natural |
| PT11,1WS12,7 | 11,11 mm (7/16") | 12,7 mm (1/2") | 0,79 mm (1/32") | natural |
| PT12,0WS14,0 | 12,0 mm | 14,0 mm | 1,0 mm | natural |
| PT12,0WS15,0 | 12,0 mm | 15,0 mm | 1,5 mm | natural |
| PT12,0WS16,0 | 12,0 mm | 16,0 mm | 2,0 mm | natural |
| PT12,7WS14,29 | 12,7 mm (1/2") | 14,29 mm (9/16") | 0,79 mm (1/32") | natural |
| PT12,7WS15,88 | 12,7 mm (1/2") | 15,88 mm (5/8") | 1,59 mm (1/16") | natural |
| PT14,0WS16,0 | 14,0 mm | 16,0 mm | 1,0 mm | natural |
| PT14,0WS17,0 | 14,0 mm | 17,0 mm | 1,5 mm | natural |
| PT14,0WS18,0 | 14,0 mm | 18,0 mm | 2,0 mm | natural |
| PT14,29WS15,88 | 14,29 mm (9/16") | 15,88 mm (5/8") | 0,79 mm (1/32") | natural |
| PT15,0WS17,0 | 15,0 mm | 17,0 mm | 1,0 mm | natural |
| PT15,0WS18,0 | 15,0 mm | 18,0 mm | 1,5 mm | natural |
| PT15,88WS17,46 | 15,88 mm (5/8") | 17,46 mm (11/16") | 0,79 mm (1/32") | natural |
| PT15,88WS19,05 | 15,88 mm (5/8") | 19,05 mm (3/4") | 1,59 mm (1/16") | natural |
| PT16,0WS18,0 | 16,0 mm | 18,0 mm | 1,0 mm | natural |
| PT16,0WS19,0 | 16,0 mm | 19,0 mm | 1,5 mm | natural |
| PT16,0WS20,0 | 16,0 mm | 20,0 mm | 2,0 mm | natural |
| PT16,5WS19,5 | 16,5 mm | 19,5 mm | 1,5 mm | natural |
| PT17,0WS20,0 | 17,0 mm | 20,0 mm | 1,5 mm | natural |
| PT17,46WS19,05 | 17,46 mm (11/16") | 19,05 mm (3/4") | 0,79 mm (1/32") | natural |
| PT18,0WS20,0 | 18,0 mm | 20,0 mm | 1,0 mm | natural |
| PT18,0WS21,0 | 18,0 mm | 21,0 mm | 1,5 mm | natural |
| PT18,0WS22,0 | 18,0 mm | 22,0 mm | 2,0 mm | natural |
| PT19,0WS21,0 | 19,0 mm | 21,0 mm | 1,0 mm | natural |
| PT19,0WS22,0 | 19,0 mm | 22,0 mm | 1,5 mm | natural |
| PT19,05WS22,23 | 19,05 mm (3/4") | 22,23 mm (7/8") | 1,59 mm (1/16") | natural |
Tyical Physical Properties of Optiflon PTFE Tube
Property
Value
Hardness
60° Shore D
Color
white
Specific Gravity
2,15
Max. Working Temperature
+260°C
Min. Working Temperature
-200°C
Melting Point
+327°C
Tensile Strenght
24 N/mm2
(3.500 psi)
Water absorption
<0,01%
Dielectric Strenght
>1.400 V/mm
Thermal Conductivity
1,7 BTU/hr/ft2/°F.in
Elongation
300,00%