Tygon® A-60-F - Long-Life Peristaltic Pump Tubing
Long-Life, Temperature Resistant Tubing for Food and Beverage
Formulated to withstand extreme Temperatures from -24°C (-75°F) to 135°C (275°F), Tygon® A-60-F Tubing will not crack or deteriorate when used in demanding food and beverage applications. Extremly flexible, it resists kinks and retains its shape while installing quickly and easily. Its excellent flexural fatigue resistance makes it the absolute best choice for use in peristaltic pumps often found in dispensing equipment. Repeatedly autoclavable, it can be steam cleaned in place, eliminating the need for frequent tubing replacement. When harsh sanitizing solutions are used, it exhibits exceptional chemical resistance and is entirely unaffected by a wide variety of cleaning solutions.
Simplifies Cleaning and Sterilization
Tygon® A-60-F Tubing is ideal for use in clean-in-place and steam-inplace cleaning and sterilization systems. It is compatible with virtually all commercial cleaners and sanitizers an can be repeatedly autoclaved for up to five cycle times without affecting its overall service life. Tygon® A-60-F complies with FDA 21 CFR, 177.2600 criteria, 3-A Sanitary Standards and NSF Standard 51, which are applicable in many food contact applications.
Now available to withstand elevated Pressure
Certain applications require using pressures that only reinforced tubing can withstand. For those applications, Tygon® A-60-F I.B. Tubing is now available. It has the same desirable properties as Tygon® A-60-F Tubing with an additional reinforced embedded within its walls to withstand elevated pressure.
Excellent Chemical Resistance
Tygon® A-60-F Tubing has excellent acid and alkali resistance, and is compatible with numerous oxidizing agents such as peroxide, hypochlorite and ozone.
Please note: Tygon® A-60-F has been replaced with
Tygon® A-60-C
.
More information
Change notification Tygon® A-60-F
.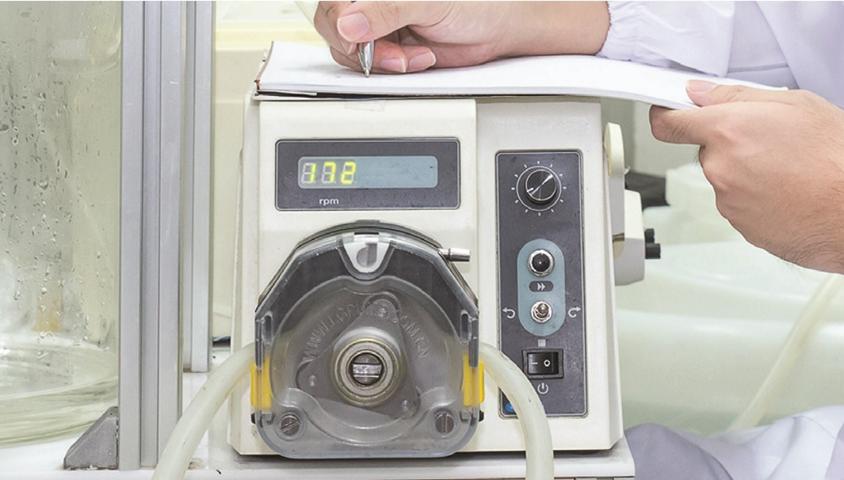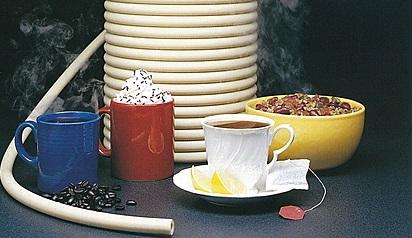 Features and benefits
Long Flex Life in Peristaltic Pump
Temperature resistant from -24°C (-75°F) to 135°C (275°F)
Compatible with virtually all common sanitizers and cleaners
Ozone and UV light resistant
Repeatedly autoclavable
Chemically compatible with a wide range of cleaners
Regulatory compliance
FDA 21 CFR, 177.2600 criteria*
NSF 51
3-A
Tygon® Tube A-60-F - Diameters and wall thickness
| Art.No. | Ø Inner | Ø Outer | Wall | Inch rounded | Crossref. |
| --- | --- | --- | --- | --- | --- |
| TY1,59AF4,76 | 1,59 mm (1/16") | 4,76 mm (3/16") | 1,59 mm (1/16") | 1,6 x 4,8 x 1,6 mm | R6F02-23 |
| TY3,0AF5,0 | 3,0 mm | 5,0 mm | 1,0 mm | | R6F0C-103 |
| TY3,18AF6,35 | 3,18 mm (1/8") | 6,35 mm (1/4") | 1,59 mm (1/16") | 3,2 x 6,4 x 1,6 mm | R6F04-23 |
| TY4,0AF6,0 | 4,0 mm | 6,0 mm | 1,0 mm | | R6F0D-103 |
| TY4,0AF8,0 | 4,0 mm | 8,0 mm | 2,0 mm | | R6F0G-203 |
| TY6,0AF10,0 | 4,0 mm | 10,0 mm | 3,0 mm | | R6F0J-203 |
| TY4,76AF7,94 | 4,76 mm (3/16") | 7,94 mm (5/16") | 1,59 mm (1/16") | 4,8 x 8,0 x 1,6 mm | R6F06-23 |
| TY6,35AF12,7 | 6,35 mm (1/4") | 12,7 mm (1/2") | 3,18 mm (1/8") | 6,4 x 12,7 x 3,2 mm | R6F08-43 |
| TY6,35AF9,53 | 6,35 mm (1/4") | 9,53 mm (3/8") | 1,59 mm (1/16") | 6,4 x 9,6 x 1,6 mm | R6F08-23 |
| TY7,0AF11,0 | 7,0 mm | 11,0 mm | 2,0 mm | | R6F0L-203 |
| TY7,94AF11,1 | 7,94 mm (5/16") | 11,11 mm (7/16") | 1,59 mm (1/16") | 8,0 x 11,2 x 1,6 mm | R6F10-23 |
| TY8,0AF12,0 | 8,0 mm | 12,0 mm | 2,0 mm | | R6F0N-203 |
| TY9,53AF12,7 | 9,53 mm (3/8") | 12,7 mm (1/2") | 1,59 mm (1/16") | 9,6 x 12,7 x 1,6 mm | R6F12-23 |
| TY9,53AF15,88 | 9,53 mm (3/8") | 15,88 mm (5/8") | 3,18 mm (1/8") | 9,6 x 15,9 x 3,2 mm | R6F12-43 |
| TY10,0AF14,0 | 10,0 mm | 14,0 mm | 2,0 mm | | R6F0P-203 |
| TY12,7AF19,05 | 12,7 mm (1/2") | 19,05 mm (3/4") | 3,18 mm (1/8") | 12,7 x 19,2 x 3,2 mm | R6F16-43 |
| TY15,88AF22,23 | 15,88 mm (5/8") | 22,23 mm (7/8") | 3,18 mm (1/8") | 15,9 x 22,2 x 3,2 mm | R6F20-43 |
| TY19,05AF25,4 | 19,05 mm (3/4") | 25,4 mm (1") | 3,18 mm (1/8") | 19,1 x 25,4 x 3,2 mm | R6F24-43 |
| Art.No. | Ø Inner | Ø Outer | Wall | Inch rounded | Crossref. |
| --- | --- | --- | --- | --- | --- |
| TY6,35AF12,7IB | 6,35 mm (1/4") | 12,7 mm (1/2") | 3,18 mm (1/8") | 6,4 x 12,7 x 3,2 mm | APW00019 |
| TY9,53AF15,88IB | 9,53 mm (3/8") | 15,88 mm (5/8") | 3,18 mm (1/8") | 9,6 x 15,9 x 3,2 mm | APW00029 |
| TY12,7AF19,05IB | 12,7 mm (1/2") | 19,05 mm (3/4") | 3,18 mm (1/8") | 12,7 x 19,1 x 3,2 mm | APW00038 |
| TY15,88AF22,23IB | 15,88 mm (5/8") | 22,23 mm (7/8") | 3,18 mm (1/8") | 15,9 x 22,3 x 3,2 mm | APW00046 |
| TY19,05AF26,99IB | 19,05 mm (3/4") | 26,99 mm (1-1/16") | 3,97 mm (5/32") | 19,0 x 26,9 x 4,0 mm | APW00054 |
| TY25,4AF34,93IB | 25,4 mm (1") | 34,93 mm /1-3/8" | 4,76 mm (3/16") | 25,4 x 34,9 x 4,8 mm | APW00064 |
Typical Physical Properties of Tygon® A-60-F Tubing
Property
ASTM Method
A-60-F
A-60-F I.B.
Durometer Hardness
D2240-03
61° Shore A, 15s
61° Shore A, 15s
Color
-
Opaque Cream
Opaque Cream
Tensile Strength
D412-98
6.9 MPa (1000 psi)
6.9 MPa (1000 psi)
Ultimate Elongation
D412-98
375,00%
375,00%
Tear Resistance
D1004-03
21.0 kN/m (120 lb-f/in)
21.0 kN/m (120 lb-f/in)
Specific Gravity
D792-00
0,98
0,98
Compression Set Constant Deflection 22 hrs. @ 70°C
D395-0
Method B
27,00%
30,00%
Tensile Modulus at 100% Elongation
D412-98
2.8 MPa (410 psi)
2.8 MPa (410 psi)
Tensile Modulusat 300% Elongation
D412-98
5.5 MPa (800 psi)
5.5 MPa (800 psi)
Tensile Set at 75% Elongation
D412-98
47
47
Dielectric Strength
D149-97
21.1 kV/mm (535 v/mil)
21.1 kV/mm (535 v/mil)
Maximum Recommended Operating Temperature
-
135°C (275 °F)
135°C (275 °F)
Brittleness by Impact Temperature
D746-98
-59°C (-75°F)
-59°C (-75°F)
Water Absorption, 24 hrs. @ 23°C
D570-98
0,30%
0,30%
Unless otherwise noted, all tests were conducted at room temperature 23°C (73°F). Values shown were determined on 1.905 mm (0,075") thick extruded strip or 1.905 mm (0,075") thick molded ASTM plaques or molded ASTM durometer buttons. Size of tubing tested is 3,18 mm (1/8") ID x 6,35 (1/4") OD.

Tygon® A-60-F TUBING IS NOT INTENDED FOR USE AS AN IMPLANT MATERIAL. OPTUBUS GmbH