Purity and temperature resistance for demanding Applications
Large field of Applications
Laboratory, analytic, pharmaceutical-, medical or food/beverage industries. Due to its properties Optiflex Silicone-Tubing is suitable for many demanding applications. The smooth inner surface reduces the risk of particulate entrapment and microscopic buildup.
Good resistance and suitable for high temperatures
Resists weathering and aging, good resistance against bases and diluted acids, therefore suitable for many cleaning agents. Especially for a soft tubing Optiflex Silicone withstands extreme temperatures of -60°C to +200°C. It is autoclavable and physiologically safe. For use with up to +300°C we offer Optiflex Silicone HT-Tubing.
Regulatory Optiflex Silicone ST
Meets BfR XV and FDA §177.2600. Dimension tolerances according to DIN ISO 3302-1.
Properties Optiflex Silicone ISO
Especially for electrical insulation. Breakdown voltage approx. 18 kV/mm; Volume resistivity approx. 1015 Ω*cm (Specification VDE 0303)
Other types on request
Even low quantities (>100m depending on the dimensions), we offer custom made Types developed for your demands. Weather medical, produced in Clean room, platin-cured, extra soft or hard or simply in different colors,...please send us your request.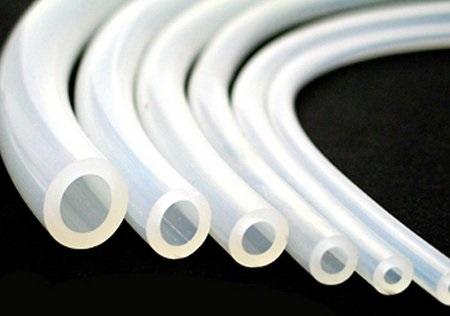 Features and Benefits
meets FDA § 177.2600 & BfR XV
for Temperatures from -60° C to +200°
transparent/translucent
taste and odor free
autoclavable
smooth inner surface
physiologically safe
Typical Applications
Food and Beverage
Cosmetic production
Analytic
Medical- and Pharmaceutical
electric Isolation of Hot Air
Optiflex Silicone Tube - Diameters and wall thickness
| Art.No. | Ø Inner | Ø Outer | Wall |
| --- | --- | --- | --- |
| SI3,0DT8,0RT | 3,0 mm | 8,0 mm | 2,5 mm |
| SI4,0DT9,0RT | 4,0 mm | 9,0 mm | 2,5 mm |
| SI5,0DT11,0RT | 5,0 mm | 11,0 mm | 3,0 mm |
| SI6,0DT12,0RT | 6,0 mm | 12,0 mm | 3,0 mm |
| SI7,0DT13,5RT | 7,0 mm | 13,5 mm | 3,25 mm |
| SI8,0DT14,5RT | 8,0 mm | 14,5 mm | 3,25 mm |
| SI9,0DT16,0RT | 9,0 mm | 16,0 mm | 3,5 mm |
| SI10,0DT17,0RT | 10,0 mm | 17,0 mm | 3,5 mm |
| SI10,0DT18,0RT | 10,0 mm | 18,0 mm | 4,0 mm |
| SI11,0DT18,0RT | 11,0 mm | 18,0 mm | 3,5 mm |
| SI12,0DT19,0RT | 12,0 mm | 19,0 mm | 3,5 mm |
| SI12,0DT20,0RT | 12,0 mm | 20,0 mm | 4,0 mm |
| SI13,0DT20,0RT | 13,0 mm | 20,0 mm | 3,5 mm |
| SI15,0DT23,0RT | 15,0 mm | 23,0 mm | 4,0 mm |
| SI16,0DT24,0RT | 16,0 mm | 24,0 mm | 4,0 mm |
| SI18,0DT26,0RT | 18,0 mm | 26,0 mm | 4,0 mm |
| SI19,0DT28,0RT | 19,0 mm | 28,0 mm | 4,5 mm |
| SI20,0DT30,0RT | 20,0 mm | 30,0 mm | 5,0 mm |
| Art.No. | Ø Inner | Ø Outer | Wall |
| --- | --- | --- | --- |
| SI0,3IS0,5 | 0,3 mm | 0,5 mm | 0,1 mm |
| SI0,3IS0,7 | 0,3 mm | 0,7 mm | 0,2 mm |
| SI0,5IS0,7 | 0,5 mm | 0,7 mm | 0,1 mm |
| SI0,5IS0,9 | 0,5 mm | 0,9 mm | 0,1 mm |
| SI0,5IS1,1 | 0,5 mm | 1,1 mm | 0,3 mm |
| SI0,5IS1,3 | 0,5 mm | 1,3 mm | 0,4 mm |
| SI0,5IS1,5 | 0,5 mm | 1,5 mm | 0,5 mm |
| SI0,5IS2,5 | 0,5 mm | 1,5 mm | 1,0 mm |
| SI0,7IS0,9 | 0,7 mm | 0,9 mm | 0,1 mm |
| SI0,7IS1,1 | 0,7 mm | 1,1 mm | 0,2 mm |
| SI0,7IS1,3 | 0,7 mm | 1,3 mm | 0,3 mm |
| SI0,7IS1,7 | 0,7 mm | 1,7 mm | 0,5 mm |
| SI0,7IS2,1 | 0,7 mm | 2,1 mm | 0,7 mm |
| SI0,8IS1,6 | 0,8 mm | 1,6 mm | 0,4 mm |
| SI1,0IS1,4 | 1,0 mm | 1,4 mm | 0,2 mm |
| SI1,0IS1,8 | 1,0 mm | 1,8 mm | 0,4 mm |
| SI1,0IS2,0 | 1,0 mm | 2,0 mm | 0,5 mm |
| SI1,0IS2,4 | 1,0 mm | 2,4 mm | 0,7 mm |
| SI1,0IS3,0 | 1,0 mm | 3,0 mm | 1,0 mm |
| SI1,0IS4,0 | 1,0 mm | 4,0 mm | 1,5 mm |
| SI1,2IS2,0 | 1,2 mm | 2,0 mm | 0,4 mm |
| SI1,3IS1,7 | 1,3 mm | 1,7 mm | 0,2 mm |
| SI1,5IS1,9 | 1,5 mm | 1,9 mm | 0,2 mm |
| SI1,5IS2,1 | 1,5 mm | 2,1 mm | 0,3 mm |
| SI1,5IS2,3 | 1,5 mm | 2,3 mm | 0,4 mm |
| SI1,5IS2,5 | 1,5 mm | 2,5 mm | 0,5 mm |
| SI1,5IS2,9 | 1,5 mm | 2,9 mm | 0,7 mm |
| SI1,5IS3,5 | 1,5 mm | 3,5 mm | 1,0 mm |
| SI2,0IS2,4 | 2,0 mm | 2,4 mm | 0,2 mm |
| SI2,0IS2,8 | 2,0 mm | 2,8 mm | 0,4 mm |
| SI2,0IS3,0 | 2,0 mm | 3,0 mm | 0,5 mm |
| SI2,0IS3,4 | 2,0 mm | 3,4 mm | 0,7 mm |
| SI2,0IS4,0 | 2,0 mm | 4,0 mm | 1,0 mm |
| SI2,0IS5,0 | 2,0 mm | 5,0 mm | 1,5 mm |
| SI2,5IS2,9 | 2,5 mm | 2,9 mm | 0,2 mm |
| SI2,5IS3,3 | 2,5 mm | 3,3 mm | 0,4 mm |
| SI2,5IS3,5 | 2,5 mm | 3,5 mm | 0,5 mm |
| SI2,5IS4,5 | 2,5 mm | 4,5 mm | 1,0 mm |
| SI2,5IS5,5 | 2,5 mm | 5,5 mm | 1,5 mm |
| SI3,0IS3,6 | 3,0 mm | 3,6 mm | 0,3 mm |
| SI3,0IS3,8 | 3,0 mm | 3,8 mm | 0,4 mm |
| SI3,0IS4,0 | 3,0 mm | 4,0 mm | 0,5 mm |
| SI3,0IS5,0 | 3,0 mm | 5,0 mm | 1,0 mm |
| SI3,0IS6,0 | 3,0 mm | 6,0 mm | 1,5 mm |
| SI3,0IS7,0 | 3,0 mm | 7,0 mm | 2,0 mm |
| SI3,5IS4,3 | 3,5 mm | 4,3 mm | 0,4 mm |
| SI4,0IS5,0 | 4,0 mm | 5,0 mm | 0,5 mm |
| SI4,0IS5,4 | 4,0 mm | 5,4 mm | 0,7 mm |
| SI4,0IS6,0 | 4,0 mm | 6,0 mm | 1,0 mm |
| SI4,0IS8,0 | 4,0 mm | 8,0 mm | 2,0 mm |
| SI5,0IS6,0 | 5,0 mm | 6,0 mm | 0,5 mm |
| SI5,0IS7,0 | 5,0 mm | 7,0 mm | 1,0 mm |
| SI5,0IS8,0 | 5,0 mm | 8,0 mm | 1,5 mm |
| SI5,0IS9,0 | 5,0 mm | 9,0 mm | 2,0 mm |
| SI6,0IS10,0 | 6,0 mm | 10,0 mm | 2,0 mm |
| SI6,0IS12,0 | 6,0 mm | 12,0 mm | 3,0 mm |
| SI6,0IS7,0 | 6,0 mm | 7,0 mm | 0,5 mm |
| SI6,0IS8,0 | 6,0 mm | 8,0 mm | 1,0 mm |
| SI6,0IS9,0 | 6,0 mm | 9,0 mm | 1,5 mm |
| SI7,0IS10,0 | 7,0 mm | 10,0 mm | 1,5 mm |
| SI7,0IS11,0 | 7,0 mm | 11,0 mm | 2,0 mm |
| SI7,0IS8,0 | 7,0 mm | 8,0 mm | 0,5 mm |
| SI7,0IS8,4 | 7,0 mm | 8,4 mm | 0,7 mm |
| SI7,0IS9,0 | 7,0 mm | 9,0 mm | 1,0 mm |
| SI8,0IS10,0 | 8,0 mm | 10,0 mm | 1,0 mm |
| SI8,0IS11,0 | 8,0 mm | 11,0 mm | 1,5 mm |
| SI8,0IS12,0 | 8,0 mm | 12,0 mm | 2,0 mm |
| SI8,0IS9,0 | 8,0 mm | 9,0 mm | 0,5 mm |
| SI9,0IS10,4 | 9,0 mm | 10,4 mm | 0,7 mm |
| SI9,0IS11,0 | 9,0 mm | 11,0 mm | 1,0 mm |
| SI9,0IS12,0 | 9,0 mm | 12,0 mm | 1,5 mm |
| SI9,0IS13,0 | 9,0 mm | 13,0 mm | 2,0 mm |
| SI10,0IS12,0 | 10,0 mm | 12,0 mm | 1,0 mm |
| SI10,0IS13,0 | 10,0 mm | 13,0 mm | 1,5 mm |
| SI10,0IS14,0 | 10,0 mm | 14,0 mm | 2,0 mm |
| SI10,0IS15,0 | 10,0 mm | 15,0 mm | 2,5 mm |
| SI12,0IS14,0 | 12,0 mm | 14,0 mm | 1,0 mm |
| SI12,0IS16,0 | 12,0 mm | 16,0 mm | 2,0 mm |
| SI14,0IS16,0 | 14,0 mm | 16,0 mm | 1,0 mm |
| SI14,0IS18,0 | 14,0 mm | 18,0 mm | 2,0 mm |
| SI15,0IS17,0 | 15,0 mm | 17,0 mm | 1,0 mm |
| SI15,0IS19,0 | 15,0 mm | 19,0 mm | 2,0 mm |
| SI16,0IS18,0 | 16,0 mm | 18,0 mm | 1,0 mm |
| SI16,0IS20,0 | 16,0 mm | 20,0 mm | 2,0 mm |
| SI18,0IS20,0 | 18,0 mm | 20,0 mm | 1,0 mm |
| SI18,0IS22,0 | 18,0 mm | 22,0 mm | 2,0 mm |
| SI20,0IS22,0 | 20,0 mm | 22,0 mm | 1,0 mm |
| SI20,0IS24,0 | 20,0 mm | 24,0 mm | 2,0 mm |
| SI25,0IS27,0 | 25,0 mm | 27,0 mm | 1,0 mm |
| SI25,0IS29,0 | 25,0 mm | 29,0 mm | 2,0 mm |
| SI32,0IS36,0 | 32,0 mm | 36,0 mm | 2,0 mm |
| Art.No. | Ø Inner | Ø Outer | Wall |
| --- | --- | --- | --- |
| SI0,5PT1,5 | 0,5 mm | 1,5 mm | 0,5 mm |
| SI0,5PT2,1 | 0,5 mm | 2,1 mm | 0,8 mm |
| SI0,79PT2,38 | 0,79 mm (1/32") | 2,38 mm (3/32") | 0,79 mm (1/32") |
| SI1,0PT2,0 | 1,0 mm | 2,0 mm | 0,5 mm |
| SI1,0PT3,0 | 1,0 mm | 3,0 mm | 1,0 mm |
| SI1,5PT2,5 | 1,5 mm | 2,5 mm | 0,5 mm |
| SI1,5PT3,0 | 1,5 mm | 3,0 mm | 0,75 mm |
| SI1,5PT3,5 | 1,5 mm | 3,5 mm | 1,0 mm |
| SI1,59PT3,18 | 1,59 mm (1/16") | 3,18 mm (1/8") | 0,79 mm (1/32") |
| SI1,59PT4,76 | 1,59 mm (1/16") | 4,76 mm (3/16") | 1,59 mm (1/16") |
| SI2,0PT4,0 | 2,0 mm | 4,0 mm | 1,0 mm |
| SI2,0PT6,0 | 2,0 mm | 6,0 mm | 2,0 mm |
| SI2,38PT3,97 | 2,38 mm (3/32") | 3,97 mm (5/32") | 0,79 mm (1/32") |
| SI3,0PT5,0 | 3,0 mm | 5,0 mm | 1,0 mm |
| SI3,0PT6,0 | 3,0 mm | 6,0 mm | 1,5 mm |
| SI3,0PT7,0 | 3,0 mm | 7,0 mm | 2,0 mm |
| SI3,18PT4,76 | 3,18 mm (1/8") | 4,76 mm (3/16") | 0,79 mm (1/32") |
| SI3,18PT5,2 | 3,18 mm (1/8") | 5,2 mm | 1,0 mm |
| SI3,18PT6,35 | 3,18 mm (1/8") | 6,35 mm (1/4") | 1,59 mm (1/16") |
| SI4,0PT10,0 | 4,0 mm | 10,0 mm | 3,0 mm |
| SI4,0PT5,6 | 4,0 mm | 5,6 mm | 0,8 mm |
| SI4,0PT6,0 | 4,0 mm | 6,0 mm | 1,0 mm |
| SI4,0PT7,0 | 4,0 mm | 7,0 mm | 1,5 mm |
| SI4,0PT8,0 | 4,0 mm | 8,0 mm | 2,0 mm |
| SI4,76PT6,35 | 4,76 mm (3/16") | 6,35 mm (1/4") | 0,79 mm (1/32") |
| SI4,76PT7,94 | 4,76 mm (3/16") | 7,94 mm (5/16") | 1,59 mm (1/16") |
| SI4,76PT9,53 | 4,76 mm (3/16") | 9,53 mm (3/8") | 2,38 mm (3/32") |
| SI5,0PT10,0 | 5,0 mm | 10,0 mm | 2,5 mm |
| SI5,0PT7,0 | 5,0 mm | 7,0 mm | 1,0 mm |
| SI5,0PT8,0 | 5,0 mm | 8,0 mm | 1,5 mm |
| SI5,0PT9,0 | 5,0 mm | 9,0 mm | 2,0 mm |
| SI6,0PT10,0 | 6,0 mm | 10,0 mm | 2,0 mm |
| SI6,0PT12,0 | 6,0 mm | 12,0 mm | 3,0 mm |
| SI6,0PT8,0 | 6,0 mm | 8,0 mm | 1,0 mm |
| SI6,0PT9,0 | 6,0 mm | 9,0 mm | 1,5 mm |
| SI6,35PT11,11 | 6,35 mm (1/4") | 11,11 mm (7/16") | 2,38 mm (3/32") |
| SI6,35PT12,7 | 6,35 mm (1/4") | 12,7 mm (1/2") | 3,18 mm (1/8") |
| SI6,35PT7,94 | 6,35 mm (1/4") | 7,94 mm (5/16") | 0,79 mm (1/32") |
| SI6,35PT9,53 | 6,35 mm (1/4") | 9,53 mm (3/8") | 1,59 mm (1/16") |
| SI7,0PT10,0 | 7,0 mm | 10,0 mm | 1,5 mm |
| SI7,0PT11,0 | 7,0 mm | 11,0 mm | 2,0 mm |
| SI7,94PT11,11 | 7,94 mm (5/16") | 11,11 mm (7/16") | 1,59 mm (1/16") |
| SI7,94PT12,7 | 7,94 mm (5/16") | 12,7 mm (1/2") | 2,38 mm (3/32") |
| SI8,0PT10,0 | 8,0 mm | 10,0 mm | 1,0 mm |
| SI8,0PT12,0 | 8,0 mm | 12,0 mm | 2,0 mm |
| SI8,0PT13,0 | 8,0 mm | 13,0 mm | 2,5 mm |
| SI8,0PT14,0 | 8,0 mm | 14,0 mm | 3,0 mm |
| SI8,0PT16,0 | 8,0 mm | 16,0 mm | 4,0 mm |
| SI9,0PT13,0 | 9,0 mm | 13,0 mm | 2,0 mm |
| SI9,0PT15,0 | 9,0 mm | 15,0 mm | 3,0 mm |
| SI9,53PT12,7 | 9,53 mm (3/8") | 12,7 mm (1/2") | 1,59 mm (1/16") |
| SI9,53PT14,29 | 9,53 mm (3/8") | 14,29 mm (9/16") | 2,38 mm (3/32") |
| SI9,53PT15,88 | 9,53 mm (3/8") | 15,88 mm (5/8") | 3,18 mm (1/8") |
| SI10,0PT12,0 | 10,0 mm | 12,0 mm | 1,0 mm |
| SI10,0PT14,0 | 10,0 mm | 14,0 mm | 2,0 mm |
| SI10,0PT15,0 | 10,0 mm | 15,0 mm | 2,5 mm |
| SI10,0PT16,0 | 10,0 mm | 16,0 mm | 3,0 mm |
| SI10,0PT18,0 | 10,0 mm | 18,0 mm | 4,0 mm |
| SI12,0PT16,0 | 12,0 mm | 16,0 mm | 2,0 mm |
| SI12,7PT15,88 | 12,7 mm (1/2") | 15,88 mm (5/8") | 1,59 mm (1/16") |
| SI12,7PT17,46 | 12,7 mm (1/2") | 17,46 mm (11/16") | 2,38 mm (3/32") |
| SI12,7PT19,05 | 12,7 mm (1/2") | 19,05 mm (3/4") | 3,18 mm (1/8") |
| SI13,0PT19,0 | 13,0 mm | 19,0 mm | 3,0 mm |
| SI15,0PT21,0 | 15,0 mm | 21,0 mm | 3,0 mm |
| SI15,88PT20,64 | 15,88 mm (5/8") | 20,64 (13/16") | 2,38 mm (3/32") |
| SI16,0PT22,0 | 16,0 mm | 22,0 mm | 3,0 mm |
| SI19,05PT25,4 | 19,05 mm (3/4") | 25,4 mm (1") | 3,18 mm (1/8") |
| SI20,0PT26,0 | 20,0 mm | 26,0 mm | 3,0 mm |
| SI22,0PT28,0 | 22,0 mm | 28,0 mm | 3,0 mm |
| SI25,0PT31,0 | 25,0 mm | 31,0 mm | 3,0 mm |
| Art.No. | Ø Inner | Ø Outer | Wall |
| --- | --- | --- | --- |
| SI0,5ST2,5 | 0,5 mm | 2,5 mm | 1,0 mm |
| SI1,0ST1,8 | 1,0 mm | 1,8 mm | 0,4 mm |
| SI1,0ST2,0 | 1,0 mm | 2,0 mm | 0,5 mm |
| SI1,0ST3,0 | 1,0 mm | 3,0 mm | 1,0 mm |
| SI1,0ST4,0 | 1,0 mm | 4,0 mm | 1,5 mm |
| SI1,5ST2,5 | 1,5 mm | 2,5 mm | 0,5 mm |
| SI1,5ST3,0 | 1,5 mm | 3,0 mm | 0,75 mm |
| SI1,5ST3,5 | 1,5 mm | 3,5 mm | 1,0 mm |
| SI2,0ST3,0 | 2,0 mm | 3,0 mm | 0,5 mm |
| SI2,0ST4,0 | 2,0 mm | 4,0 mm | 1,0 mm |
| SI2,0ST5,0 | 2,0 mm | 5,0 mm | 1,5 mm |
| SI2,0ST6,0 | 2,0 mm | 6,0 mm | 2,0 mm |
| SI2,5ST3,5 | 2,5 mm | 3,5 mm | 0,5 mm |
| SI2,5ST6,5 | 2,5 mm | 6,5 mm | 2,0 mm |
| SI3,0ST4,0 | 3,0 mm | 4,0 mm | 0,5 mm |
| SI3,0ST5,0 | 3,0 mm | 5,0 mm | 1,0 mm |
| SI3,0ST6,0 | 3,0 mm | 6,0 mm | 1,5 mm |
| SI3,0ST7,0 | 3,0 mm | 7,0 mm | 2,0 mm |
| SI3,5ST6,5 | 3,5 mm | 6,5 mm | 1,5 mm |
| SI4,0ST10,0 | 4,0 mm | 10,0 mm | 3,0 mm |
| SI4,0ST12,0 | 4,0 mm | 12,0 mm | 4,0 mm |
| SI4,0ST5,0 | 4,0 mm | 5,0 mm | 0,5 mm |
| SI4,0ST6,0 | 4,0 mm | 6,0 mm | 1,0 mm |
| SI4,0ST7,0 | 4,0 mm | 7,0 mm | 1,5 mm |
| SI4,0ST8,0 | 4,0 mm | 8,0 mm | 2,0 mm |
| SI4,0ST9,0 | 4,0 mm | 9,0 mm | 2,5 mm |
| SI4,5ST5,5 | 4,5 mm | 5,5 mm | 0,5 mm |
| SI5,0ST10,0 | 5,0 mm | 10,0 mm | 2,5 mm |
| SI5,0ST11,0 | 5,0 mm | 11,0 mm | 3,0 mm |
| SI5,0ST13,0 | 5,0 mm | 13,0 mm | 4,0 mm |
| SI5,0ST6,0 | 5,0 mm | 6,0 mm | 0,5 mm |
| SI5,0ST7,0 | 5,0 mm | 7,0 mm | 1,0 mm |
| SI5,0ST8,0 | 5,0 mm | 8,0 mm | 1,5 mm |
| SI5,0ST9,0 | 5,0 mm | 9,0 mm | 2,0 mm |
| SI6,0ST10,0 | 6,0 mm | 10,0 mm | 2,0 mm |
| SI6,0ST12,0 | 6,0 mm | 12,0 mm | 3,0 mm |
| SI6,0ST14,0 | 6,0 mm | 14,0 mm | 4,0 mm |
| SI6,0ST7,0 | 6,0 mm | 7,0 mm | 0,5 mm |
| SI6,0ST8,0 | 6,0 mm | 8,0 mm | 1,0 mm |
| SI6,0ST9,0 | 6,0 mm | 9,0 mm | 1,5 mm |
| SI7,0ST10,0 | 7,0 mm | 10,0 mm | 1,5 mm |
| SI7,0ST11,0 | 7,0 mm | 11,0 mm | 2,0 mm |
| SI7,0ST13,0 | 7,0 mm | 13,0 mm | 3,0 mm |
| SI7,0ST8,4 | 7,0 mm | 8,4 mm | 0,7 mm |
| SI7,0ST9,0 | 7,0 mm | 9,0 mm | 1,0 mm |
| SI8,0ST10,0 | 8,0 mm | 10,0 mm | 1,0 mm |
| SI8,0ST11,0 | 8,0 mm | 11,0 mm | 1,5 mm |
| SI8,0ST12,0 | 8,0 mm | 12,0 mm | 2,0 mm |
| SI8,0ST14,0 | 8,0 mm | 14,0 mm | 3,0 mm |
| SI8,0ST16,0 | 8,0 mm | 16,0 mm | 4,0 mm |
| SI9,0ST13,0 | 9,0 mm | 13,0 mm | 2,0 mm |
| SI10,0ST12,0 | 10,0 mm | 12,0 mm | 1,0 mm |
| SI10,0ST13,0 | 10,0 mm | 13,0 mm | 1,5 mm |
| SI10,0ST14,0 | 10,0 mm | 14,0 mm | 2,0 mm |
| SI10,0ST15,0 | 10,0 mm | 15,0 mm | 2,5 mm |
| SI10,0ST16,0 | 10,0 mm | 16,0 mm | 3,0 mm |
| SI10,0ST18,0 | 10,0 mm | 18,0 mm | 4,0 mm |
| SI10,0ST20,0 | 10,0 mm | 20,0 mm | 5,0 mm |
| SI11,0ST15,0 | 11,0 mm | 15,0 mm | 2,0 mm |
| SI12,0ST14,0 | 12,0 mm | 14,0 mm | 1,0 mm |
| SI12,0ST16,0 | 12,0 mm | 16,0 mm | 2,0 mm |
| SI12,0ST18,0 | 12,0 mm | 18,0 mm | 3,0 mm |
| SI12,0ST20,0 | 12,0 mm | 20,0 mm | 4,0 mm |
| SI13,0ST17,0 | 13,0 mm | 17,0 mm | 2,0 mm |
| SI13,0ST19,0 | 13,0 mm | 19,0 mm | 3,0 mm |
| SI14,0ST18,0 | 14,0 mm | 18,0 mm | 2,0 mm |
| SI14,0ST20,0 | 14,0 mm | 20,0 mm | 3,0 mm |
| SI15,0ST19,0 | 15,0 mm | 19,0 mm | 2,0 mm |
| SI15,0ST21,0 | 15,0 mm | 21,0 mm | 3,0 mm |
| SI15,0ST25,0 | 15,0 mm | 25,0 mm | 5,0 mm |
| SI16,0ST20,0 | 16,0 mm | 20,0 mm | 1,0 mm |
| SI16,0ST22,0 | 16,0 mm | 22,0 mm | 3,0 mm |
| SI16,0ST24,0 | 16,0 mm | 24,0 mm | 4,0 mm |
| SI17,0ST25,0 | 17,0 mm | 25,0 mm | 4,0 mm |
| SI18,0ST22,0 | 18,0 mm | 22,0 mm | 2,0 mm |
| SI18,0ST24,0 | 18,0 mm | 24,0 mm | 3,0 mm |
| SI19,0ST25,0 | 19,0 mm | 25,0 mm | 3,0 mm |
| SI19,0ST27,0 | 19,0 mm | 27,0 mm | 4,0 mm |
| SI20,0ST22,0 | 20,0 mm | 22,0 mm | 1,0 mm |
| SI20,0ST26,0 | 20,0 mm | 26,0 mm | 3,0 mm |
| SI20,0ST27,0 | 20,0 mm | 27,0 mm | 3,5 mm |
| SI20,0ST28,0 | 20,0 mm | 28,0 mm | 4,0 mm |
| SI20,0ST30,0 | 20,0 mm | 30,0 mm | 5,0 mm |
| SI22,0ST26,0 | 22,0 mm | 26,0 mm | 2,0 mm |
| SI22,0ST30,0 | 22,0 mm | 30,0 mm | 4,0 mm |
| SI25,0ST27,0 | 25,0 mm | 27,0 mm | 1,0 mm |
| SI25,0ST29,0 | 25,0 mm | 29,0 mm | 2,0 mm |
| SI25,0ST31,0 | 25,0 mm | 31,0 mm | 3,0 mm |
| SI25,0ST33,0 | 25,0 mm | 33,0 mm | 4,0 mm |
| SI25,0ST35,0 | 25,0 mm | 35,0 mm | 5,0 mm |
| SI25,0ST37,0 | 25,0 mm | 37,0 mm | 6,0 mm |
| SI30,0ST36,0 | 30,0 mm | 36,0 mm | 3,0 mm |
| SI30,0ST40,0 | 30,0 mm | 40,0 mm | 5,0 mm |
| SI32,0ST36,0 | 32,0 mm | 36,0 mm | 2,0 mm |
| SI32,0ST38,0 | 32,0 mm | 38,0 mm | 3,0 mm |
| SI35,0ST45,0 | 35,0 mm | 45,0 mm | 5,0 mm |
| SI40,0ST50,0 | 40,0 mm | 50,0 mm | 5,0 mm |
| SI45,0ST55,0 | 45,0 mm | 55,0 mm | 5,0 mm |
| SI50,0ST60,0 | 50,0 mm | 60,0 mm | 5,0 mm |
| Art.No. | Ø Inner | Ø Outer | Wall |
| --- | --- | --- | --- |
| SI3,0DT9,0 | 3,0 mm | 9,0 mm | 3,0 mm |
| SI4,0DT10,0 | 4,0 mm | 10,0 mm | 3,0 mm |
| SI4,0DT9,4 | 4,0 mm | 9,4 mm | 2,7 mm |
| SI5,0DT11,0 | 5,0 mm | 11,0 mm | 3,0 mm |
| SI6,0DT12,0 | 6,0 mm | 12,0 mm | 3,0 mm |
| SI8,0DT15,0 | 8,0 mm | 15,0 mm | 3,5 mm |
| SI10,0DT17,0 | 10,0 mm | 17,0 mm | 3,5 mm |
| SI12,5DT19,5 | 12,5 mm | 19,5 mm | 3,5 mm |
| SI14,0DT22,0 | 14,0 mm | 22,0 mm | 4,0 mm |
| SI16,0DT26,0 | 16,0 mm | 26,0 mm | 5,0 mm |
| SI19,0DT30,0 | 19,0 mm | 30,0 mm | 5,5 mm |
| SI25,0DT37,0 | 25,0 mm | 37,0 mm | 6,0 mm |
Typical Physical Properties of Optiflex Silicone-Tubing
| Property | Optiflex Silicone ST | Optiflex Silicone Druck | Optiflex Silicone Druck rot | Optiflex Silicone Iso |
| --- | --- | --- | --- | --- |
| Property | 60° Shore A | 70° Shore A | 70° Shore A | 60° Shore A |
| Hardness | translucent | translucent | inner transluzent outer red | translucent |
| Color | -60° C to +200° | -60° C to +200° | -60° C to +180° | -60° C to +180° |
| Working Temperature | 1,2 g/cm3 | 1,13 g/cm3 | 1,16 g/cm3 | 1,19 g/cm3 |
| Specific Gravity | 11 N/mm2 | 10 N/mm2 | 11,3 N/mm2 | - |
| Tensile Strength | 545,00% | 430,00% | 500,00% | ≥300% |
| Ultimate Elongation | 24 N/mm | 21 N/mm | 25 N/mm | - |
| Tear Propagation Strength | 35,00% | 35,00% | 35,00% | - |
| Compression set Constant Deflection, 22 hrs. @ 175°C | ~18 kV/mm | - | - | ~18 kV/mm |
| Volume resistivity | ~1015 Ω*cm | - | - | ~1015 Ω*cm |